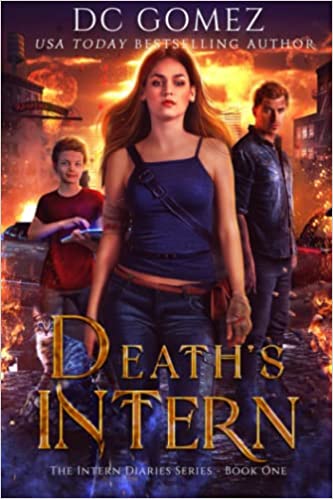 Death's Intern By D.C. Gomez
'If Death was at my door, there was no point in hiding' – a hilarious new vantage point!
Dominican born Texas author D.C. Gomez studied film and television at New York University, served in the US Army, and now enjoys her best-seller status as an author. Her books may be about dark themes, but her infectious humor makes them thoroughly enjoyable. Her short stories have appeared in collections – CUPID WORE DOGTAGS, FIESTA NIGHTS, TIS THE SEASON – and her novels are in series – CHARLIE'S FABLES, THE CAT LADY, ANOTHER WORLD, THE DARE COLLECTION, THE ORDER'S ASSASSIN, THE ELISHA & ELIJA CHRONICLES, and THE INTERN DIARIES, of which DEATH'S INTERN is the initial volume.
The lighthearted tone of this first volume is set as we meet Isis Black – 'Friday night, and I was living the dream. Yeah, right! I had cleaned the same three tables at least fifty times in the last three hours at Abuelita's. Abuelita's was a small – OK, more like a hole-in-the-wall – Tex-Mex restaurant in Texarkana, Texas. Of all the places I had ever dreamed of living and had moved to, staying there was beyond me. To make things even more confusing, Texarkana had a twin city, Texarkana, Arkansas. I guess the founders were not very creative with the name selection, but who was I to judge? Compared to most major cities, Texarkana was a tiny dot on the map. For locals, it was the largest city within sixty miles in any direction. It was by accident that I'd found it…I was sure my godmother would love this. I'd promised myself I would never follow in her footsteps of wandering around like a nomad…' With that sparkling wit, Gomez delivers her story.
The provided summary hints at the plot; 'Isis Black is thrown into a supernatural world she didn't know existed, and learns the hard way the Horsemen are real. There's no way Death offered me a job. I'm a musician that makes her living as a waitress, with absolutely no training in the supernatural world. This is all a very bad dream. But Bob has been kidnapped, and I can't possibly lose the only friend I have. Bob, you'd better be alive. Because if I just gave my soul to Death for nothing, I will personally kill you. Not to mention, it seems Death's Interns have fairly short life expectancies.
God, don't let me die.'
The concept of Death and the interaction between life endings and soul capturing provides a stage for a cast of inimitable characters, both supernatural and strange natural, whose interactions provide one fine-tuned rollicking tale – the initial adventure of a series that now numbers six volumes! For those who love humorous paranormal fiction, this is a series to explore! Recommended. Grady Harp