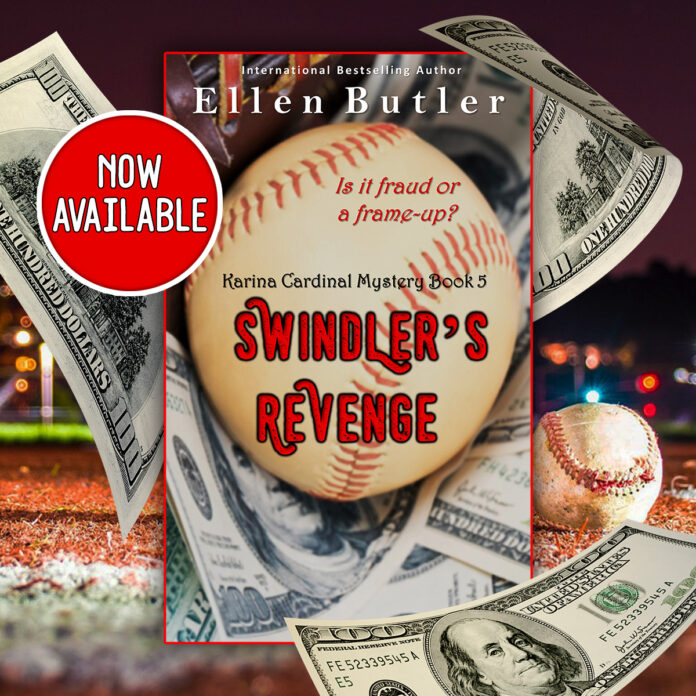 The Scheme Behind Swindler's Revenge by Ellen Butler

Fictionally Factual – featuring authors who are letting you in on all the 'facts' that go into their fiction works
I knew two things when I began writing Swindler's Revenge. First, Karina and Mike would be split up. Second, Mike was going to be in trouble and need her help. I also had vague ideas that a money launderer would play a role in framing Mike. With small bits of the plot line forming in my head, I reached out to an FBI contact who once worked White Collar crime. After laying out my ideas, my contact sent me in the direction of Operation Bullpen, a 1990s investigation into a group of individuals forging, fraudulently authenticating, and distributing sports memorabilia. The yearly sports memorabilia market is approximately a $1 billion industry, and it is estimated that the perpetrators of the fraud venture were raking in over $100 million every year. In 2000 twenty-six individuals were charged and convicted in the operation; 2001 saw even more convictions. A book by Kevin Nelson came out in 2013 called, Operation Bullpen: The Inside Story of the Biggest Forgery Scam in American History, and a movie is in the works. According to the FBI's website, the investigation resulted in:
63 charges and convictions.

Seizures exceeding $4.9 million including 5 homes, cash, bank/investment accounts, jewelry, a Ferrari, a boat, and a Harley Davidson motorcycle.

18 forgery rings dismantled.

Over $300,000.00 in restitution paid to over 1,000 victims and continuing.

$15,253,000 in economic loss prevented in the seizure of tens of thousands of pieces of forged memorabilia through 75 search warrants and over 100 undercover evidence purchases.
In addition to this information, I also researched articles about money laundering using sports memorabilia through eBay sales. If you Google José Uribe's 1990 Fleer card, you'll find theories that it is being used to launder money on eBay. An individual was selling it for $758,000 which raised eyebrows among legitimate collectors. It would certainly be one way to either pay off a debt to organized crime or clean your money.
The idea for Mike's money launderer to have an interest in baseball memorabilia came from the above research. Having a dirty agent within the FBI came from my own imagination; a necessary plot device to keep Mike off balance and uncertain about who he could trust. I personally have no knowledge of any unlawful agents, and fully respect the investigations and hard work the FBI does on a daily basis.
Swindler's Revenge
White collar crime can get dirty quicker than a line drive into foul territory.
Karina Cardinal's Saturday starts out with a bang, and it's not the home renovation marathon she's watching on HGTV. It's the FBI banging on her door, hunting for a fugitive. As if she could easily hide one in her modest condo. Especially one named Mike Finnegan.
The two of them called it splitsville a couple months ago, but Mike? Take a $1.2 million bribe? No and no and no.  No matter how much damning evidence the feds claim to have.When a mysterious burner phone shows up in her pocket, Karina has no doubt who dropped it there. Mike is deep undercover and so far off-grid, he needs help to figure out who's framing him—and why.
Classic Karina, she jumps in with both feet, ignoring the dangers. The trouble with leaping before you look? You can land in a world of dirt. And when an old enemy starts playing hardball, you can end up six feet under it.
Purchase Links:
Amazon: https://amzn.to/3eit3eo
iBooks: https://books.apple.com/us/book/id1562436257
Barnes & Noble: https://www.barnesandnoble.com/w/swindlers-revenge-ellen-butler/1139207577
Kobo: https://www.kobo.com/us/en/ebook/swindler-s-revenge
ABOUT THE AUTHOR: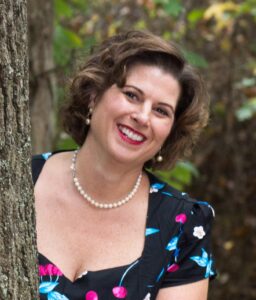 Ellen Butler is the international bestselling author of the Karina Cardinal mystery series. Her experiences working on Capitol Hill and at a medical association in Washington, D.C. inspired the mystery-action series. She is also the author of the award-winning historical suspense novel, The Brass Compass. The Brass Compass has won multiple awards for historical fiction including: 2022 Speak Up Talk Radio Firebird Book Award, 2018 IndieReader Discovery Award, 2019 Readers' Favorite Silver Medal Winner. Butler started her writing career in the romance genre and won the The Romance Reviews Readers' Choice Award in 2015 with her novel Planning for Love. Her 12th book Operation Blackbird, a Cold War spy novel, will be published in fall 2022.
You can find Ellen at:
Website ~ www.EllenButler.net
Facebook ~ www.facebook.com/EllenButlerBooks
Twitter ~ @EButlerBooks
Instagram~@ebutlerbooks
Goodreads ~ www.goodreads.com/EllenButlerBooks