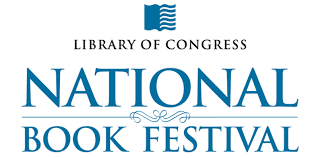 The Festival Returns to Washington Convention Center with more than 120 Authors
The 2022 Library of Congress National Book Festival returns to the Washington Convention Center this Labor Day weekend on Saturday, Sept. 3, featuring more than 120 authors, poets and writers, and celebrating the festival theme, "Books Bring Us Together."
With the return to an in-person festival, attendees will find sessions that reflect their lives and interests in the lineup of diverse offerings. Books in all of their forms will be celebrated with new storytelling and audiobook events. Festival stages have been renamed and refocused from past years, including the addition of a dedicated Life/Style stage.
Singer-songwriter Janelle Monáe discusses bringing the Afrofuturistic world of her album to the written page for "The Memory Librarian: And Other Stories of Dirty Computer." Deaf activist Nyle DiMarco shares his story in "Deaf Utopia: A Memoir — and a Love Letter to a Way of Life."
Actor Nick Offerman from TV's "Parks and Recreation" explores his journey writing "Where the Deer and the Antelope Play: The Pastoral Observations of One Ignorant American Who Loves to Walk Outside" with a National Park Service ranger. Comedian and internet personality Leslie Jordan is sure to entertain with a discussion of his book "How Y'all Doing?: Misadventures and Mischief from a Life Well Lived."
Young audiences will be enthralled by a conversation featuring Dhonielle Clayton, Tiffany D. Jackson, Nic Stone, Angie Thomas, Ashley Woodfolk and Nicola Yoon, authors of the young adult novel "Blackout." Author Donna Barba Higuera joins the Young Adult stage to discuss her award-winning dystopian novel "The Last Cuentista."
Pulitzer Prize-winning author Geraldine Brooks shares her latest novel "Horse." Clint Smith discusses his recent work "How the Word Is Passed: A Reckoning with the History of Slavery Across America."
The National Book Festival will take place on Saturday, Sept. 3 from 9 a.m. to 8 p.m. at the Walter E. Washington Convention Center in Washington, D.C. Doors will open at 8:30 a.m. The festival is free and open to everyone.
Interested attendees not able to join the festival in person can tune into sessions throughout the day. Events on several of the stages will be livestreamed on loc.gov/bookfest. Videos of all presentations will be made available on demand shortly after the festival.
Visit loc.gov/bookfest to learn more about attending the festival, including COVID-19 health and safety protocols. A comprehensive schedule will be announced in the coming weeks on the National Book Festival blog. Subscribe to the blog for updates on festival plans, health and safety protocols and more.
The full lineup of featured authors follows, organized by stage.
For Adults
Main Stage: Dhonielle Clayton, Tiffany D. Jackson, Nic Stone, Angie Thomas, Ashley Woodfolk and Nicola Yoon; Nyle DiMarco; Candice Iloh; Leslie Jordan; Ebony LaDelle; Janelle Monáe, Yohanca Delgado and Alaya Dawn Johnson; Nick Offerman; Jason Reynolds.
History & Biography: Tomiko Brown-Nagin; Jack E. Davis; Howard W. French; Kate Clifford Larson; Kelly Lytle Hernández; David Maraniss; Candice Millard; Clint Smith; Danyel Smith.
Life/Style: Geoffrey L. Cohen; Tracy Dennis-Tiwary; Todd Doughty; Hekima Hapa and Lesley Ware; Celeste Headlee; David M. Rubenstein; Ellen Vora.
Pop Lit: Mitch Albom; Louis Bayard; Eleanor Brown; Kirstin Chen; Jennifer Close; Susan Coll; Karen Joy Fowler; Grant Ginder; Xochitl Gonzalez; Katie Gutierrez; Dolen Perkins-Valdez; Amanda Eyre Ward.
Science Fiction & Fantasy: Chelsea Abdullah; Holly Black; B.L. Blanchard; Rob Hart; Alex Jennings; M.J. Kuhn; Victor Manibo; Tochi Onyebuchi; Leslye Penelope; Lucinda Roy; Nghi Vo.
Society & Culture: Rachel Aviv; Gal Beckerman; Daniel Bergner; Juli Berwald; Will Bunch; Morten Høi Jensen, Shawn McCreesh and Becca Rothfeld; Kathryn Judge; Brendan McConville; Robert Samuels; Linda Villarosa; Edith Widder; Elizabeth Williamson; Ed Yong.
Writers Studio: Nuar Alsadir; Geraldine Brooks; Kim Fu; Diana Goetsch; Linda Gregerson; Rebecca Miller; Tomás Q. Morín; Sarah Ruhl; Morgan Talty; Jesmyn Ward; Lidia Yuknavitch.
For Young People
KidLit: Kwame Alexander; Mac Barnett and Shawn Harris; Fred Bowen and James E. Ransome; David Bowles; Soman Chainani; Johnnie Christmas; Erin Entrada Kelly; Kat Fajardo; Lev Grossman; Gordon Korman; Juliet Menéndez; Andrea Davis Pinkney and Tybre Faw; Julian Randall; Tui T. Sutherland; Jennifer Ziegler.
Please Read Me A Story: Derrick Barnes and Vanessa Brantley-Newton; Mac Barnett; Ruth Behar; Ruby Bridges; Marc Brown; Xelena González; Bakari Sellers; Brittany J. Thurman.
Young Adult: Samira Ahmed; Victoria Aveyard; Donna Barba Higuera; Namina Forna; Chloe Gong; Tiffany D. Jackson; Ryan La Sala; Ebony LaDelle; Darcie Little Badger; Malinda Lo; E. Lockhart; Anna-Marie McLemore; Jason Reynolds; R. M. Romero; Sabaa Tahir; David Valdes.
All authors will participate in book signings following their events. Festivalgoers will be able to purchase books by the featured authors from Politics & Prose, the official bookseller of the 2022 National Book Festival.
In collaboration with the Library's National Library Service for the Blind and Print Disabled, the festival will feature a panel of popular audiobook narrators sharing insights into their work. The festival will also feature for the first time performances by the literary nonprofit Literature to Life, a performance-based literacy program that presents professionally staged verbatim adaptations of American literary classics.
The Library's National Book Festival was co-founded in 2001 by first lady Laura Bush.
The National Book Festival is made possible by the generous support of private- and public-sector sponsors who share the Library's commitment to reading and literacy, led by National Book Festival Co-Chair David M. Rubenstein. Sponsors include: General Motors, James Madison Council, Institute of Museum and Library Services (IMLS), National Endowment for the Arts (NEA), National Endowment for the Humanities (NEH), AARP and the John W. Kluge Center; Additional support provided from the For The People Fund, with seed funding provided by the Ford Foundation, Scholastic, Sharjah Book Authority, Friends of the Library of Congress (FLOC) and Rancho Mirage Writers Festival.