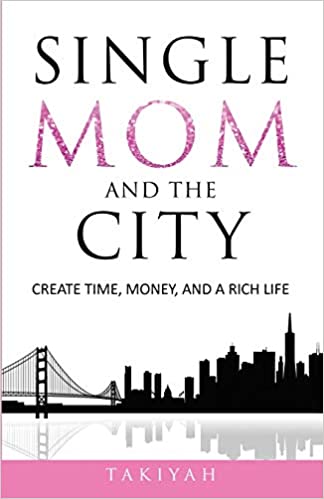 Single Mom And The City: Create Time, Money, And A Rich Life By Takiyah Smith
'Consistency is the key to accomplishing goals'
California author Takiyah Smith earned her background of knowledge in business and merchandise product development at The Fashion Institute of Design and Merchandising in Los Angeles, and lives and works in San Francisco, having founded Single Mom and the City – a resource for single moms – now in book format!
In her sensitive style of writing, Takiyah includes the following in her acknowledgements: 'Single Moms are angels that graced the earth as a blessing to children. Moms just make the world a better place. You are incredible' – and that gracious atmosphere permeates this very well written book on how to succeed as a single mother. With wit and focus she offers advice on creating the kind of life moms want (with added incentives to meditate and gain spiritual growth), manner of dress, self care, health, financial planning, budgeting, creating additional income including passive income, and much more.
Takiyah's advice is so warmly delivered that reading her book provides as much entertainment as instruction – and inspiration. 'As you go about your daily life, be sure to ask yourself the following: Am I moving in the direction of my dreams, or am I moving further away from my dreams? Allow you answer to guide your actions…You will find that when you are moving in the direction of your dreams, blessings and opportunities will arise.' In that supportive tone she provides a complete resource for dealing with life as a single mom – and making that life successful and fulfilling. Highly recommended, especially for newly divorced moms, moms without partners, and moms who have been struggling alone to make sense (and worth) of life.
Grady Harp Review