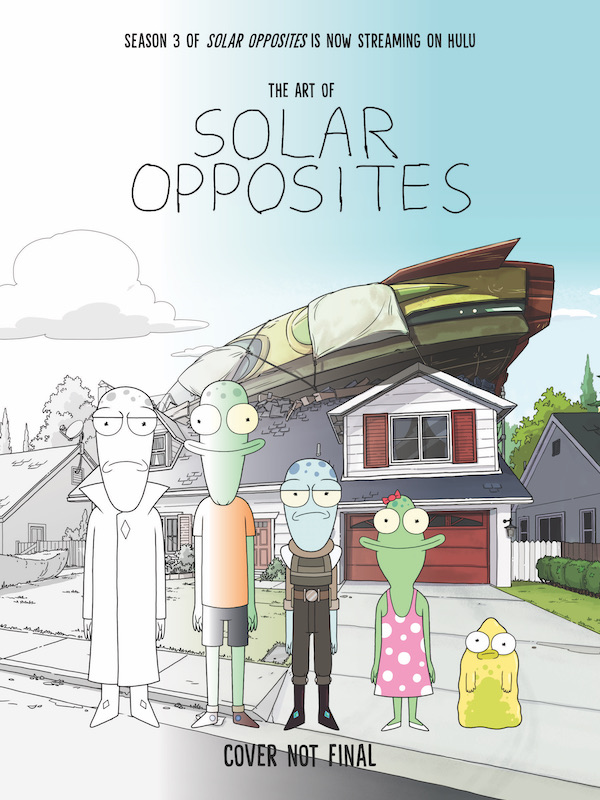 Mostly pics. No "Learn to Read" Ray Necessary!
From two of the #$%@s behind Rick and Morty comes the off-the-wall tale of a family of aliens trapped in middle America. Experience the world of "Solar Opposites" with The Art of Solar Opposites brought to you by Dark Horse Books and 20th Television Animation. This 192-page hardcover art book, written by Scott Gallopo, features concept work as well as completed renders of all characters, locations, and aspects of the show.
This book will bring you all new behind-the-scenes art for the world and characters featured in the first two seasons of Solar Opposites! It features never-before-seen art of Korvo, Terry, Yumyulack, and Jesse, as well as the inhabitants of The Wall. Explore this look at the development and process of the hit series, detailing aspects you can find nowhere else.
The Art of Solar Opposites will be in bookstores and comic shops early 2023 and will retail for $49.99.
Season 3 of "Solar Opposites" is now streaming on Hulu.

Praise for Solar Opposites Season 3
"Crass, brilliant… this is the show for you." – The New York Times
"The series continues to be a powerful voice in animated adult comedy pushing through the saturated streaming landscape to showcase bigger and better with each season." – /film
"Engrossing, satisfying, hilarious and creative." – Den of Geek