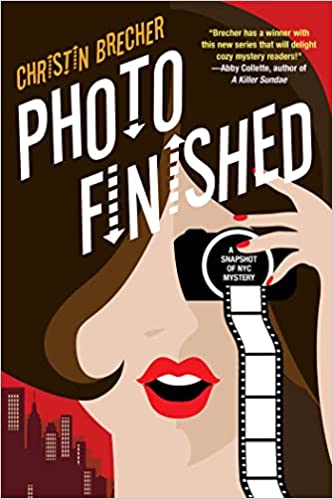 PHOTO FINISHED By Christin Brecher
(Pre-order available)
With biting wit, a young lens, and satisfying sleuthing, the first in Christin Brecher's brand new Snapshot of NYC Cozy Mystery series introduces aspiring photographer Liv Spyer, as she juggles rent on her postage stamp-sized Manhattan apartment, part time work at her grandparent's Greenwich Village key shop, her #lovelife with a guy who just might be FBI, posting to her thousands of Instagram fans, AND solving the odd murder!
While some people escape into books or music, Liv Spyers escapes through her camera's lens, which inspires her to jump into things she might otherwise have no business tackling—like moving to New York City. Hustling to make her dreams come true as a portrait photographer, she runs a pocket-sized studio below her grandparents' West Village brownstone and key shop, where she also lives and works part-time. All of which still has her down to the end of her savings as the holidays approach. Everything changes in a flash, however, when elite events photographer, Regina Montague, invites Liv to shoot with her at New York City's most exclusive socialite event of the year—the Holiday Debutante Ball! Liv snaps at the opportunity, convinced that a job with Regina will launch her career. But when her fabulous new gig ends with the murder of billionaire Charlie Archibald, her dream job may never develop with Regina framed for murder. Once Liv begins to focus on her photos from the ball, she's convinced they reveal Charlie Archibald's real killer. Now, between cracking the world of high society—and the attentions of a handsome stranger—Liv must hustle once again to expose the killer…before she gets cropped from the picture!