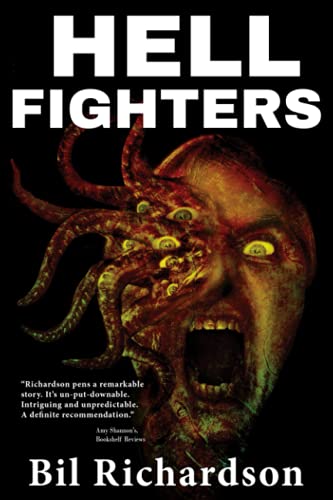 "Hell Fighters" by Bil Richardson
Warning: Forget everything that you define as normal after you buy this book.
The first words of the book are both gripping and shocking, and they grip us by the amount of shock they deliver, this, all, of course, in a pleasing way.
So what is this book about after all? This book is about a VERY, VERY, VERY strange forest and Dr. Heller. Heller, an ordinary man, with an unimpressive life, working as a professor to the University of Miskatonic, that dares to take a tour on the mysterious forest of that little and isolated town in search for a little wonder, and he finds more than just a little, he finds SO MUCH wonder that he has to run for his life the first time he is there.
You know when you see a movie and there's that sensation that everything is going to workout GREAT, no matter what happens? Yeah, you won't get any of that here, just pure terror, hopelessness and mysterious creatures  that will send chills down your spine! GOOOOSSSSEBUMPSSSSSSS !!!! OMG!!!!! The imagery is STRONG and disproportionately horrid!! Oh my GOD! This book is NASTY!
Bil Richardson has one of those narratives that just lifts one of the corners of your mouth and let's it hang there for a while to only lift it again shortly. The ways Bil uses the natural elements to increase the terror, suspense and the anxiety that fill the scenes of the book are IMPRESSIVE!
This is great, a totally pleasing read that will touch every sense in your body, most of the times, in very unpleasant ways, and let me tell you that this book will "tick" you. If you are a Horror fan, or like to get the "hibbie-gibbies", do get this book now.
Book Score: 8.7/10
Get your copy on Amazon // Author Page and remember to give a short review XD