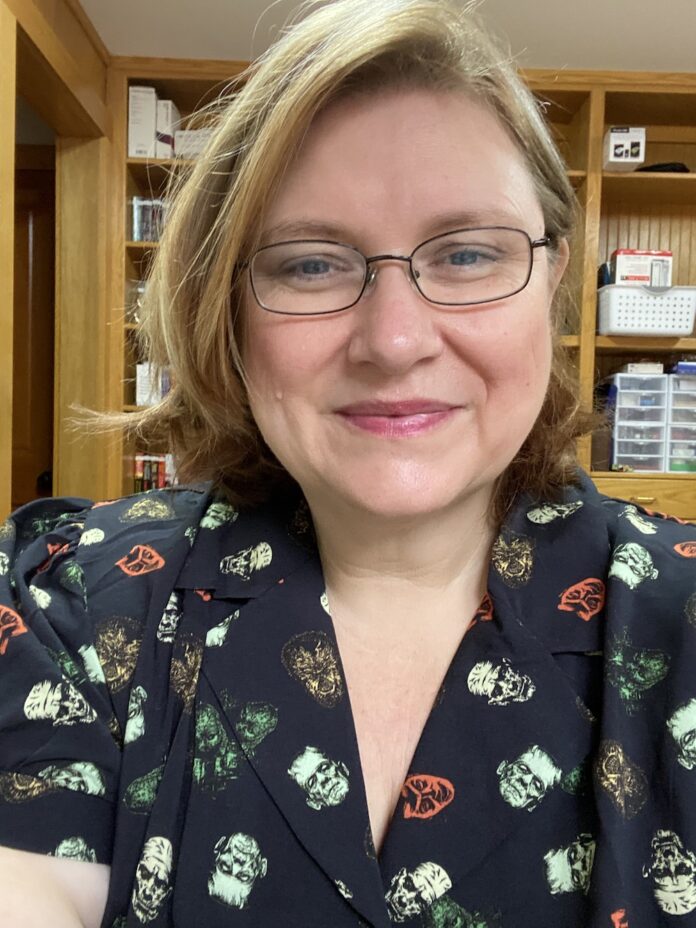 What Scares Sheila English???
(Make sure you read to the bottom for a FREE short story from Sheila!)
Yes, spiders are on the list, but it's not a really long list.
When I was younger, I started reading Stephen King novels. I read The Shining when I was ten years old, and it was the first time a book truly scared me to the point that I had to leave the lights on at night for a while.  And the first time a movie ever made me actually scream while watching it in the theater was Friday the 13th.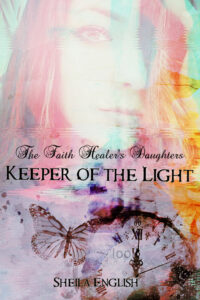 I write horror. Some of it is horror-light like my YA trilogy The Faith Healer's Daughters which has a bit of suspense, paranormal and adult themes, such as having to escape a murderous cult leader who also happens to be your father. I write horror-medium like my Circle of Seven paranormal romance. I write horror-heavy like my Adam Frankenstein series. Though that series isn't always heavy on horror, it can get that way quick. My upcoming novel entitled Skin Coat is definitely in the more "heavy horror" category.
As an honorary mention there is also horror-comedy like Abe Lincoln Vampire Hunter, Happy Death Day, What We Do in the Shadows or Army of Darkness.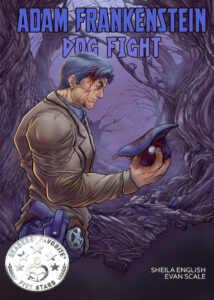 For me it's not the gore or monsters that get to me. For me, it's the anticipation of the unknown in a situation where the likelihood of something terrible, painful, scary lurks just around the corner.
Horror is a visceral reaction to whatever you fear. That might be a slasher lurking in the dark near your home or it could be people and how far they're willing to go to get what they want. It's the anticipation of something horrific that keeps me on the edge of my seat.
Here are a few books and movies you might enjoy according to the kind of horror you enjoy.
Books
The Shining
The Haunting of Hill House
It
Something Wicked This Way Comes
Frankenstein
The Manitou
Movies
Aliens
Night of the Living Dead
The Shining
The Blair Witch Project
Train to Busan
The Babadook
Now it's your turn! What horror books, movies or themes do you enjoy? What truly scares you?
ABOUT THE AUTHOR:
Award-winning author, award-winning direction, producer and screen writer, Sheila English has been a storyteller for decades. Author of the Adam Frankenstein series, CEO of Circle of Seven Productions and official dog-lady, Sheila lives in Northern California near the ocean and Redwood trees and enjoys collecting manual typewriters, watch Doctor Who and being a cos play super nerd with her husband, Ed.
Links for social media
https://sheilaenglish.com/
https://twitter.com/SheilaEnglish67
https://www.facebook.com/SheilaEnglishAuthor
https://www.instagram.com/sheilaenglishauthor/
https://www.youtube.com/booktrailers
https://www.tiktok.com/@frightfairy
Links for books
Adam Frankenstein Search for a Soul https://www.amazon.com/Adam-Frankenstein-Search-Collection-Stories-ebook/dp/B07RG7JZ42/
Adam Frankenstein Short Story Collection https://www.amazon.com/Adam-Frankenstein-Collection-Short-Stories-ebook/dp/B01LA6AX2C
Adam Frankenstein Dog Fight Comic https://www.amazon.com/Adam-Frankenstein-Fight-Comic-Book-ebook/dp/B07R6TT1MP/
Adam Frankenstein Fear Fest Comic https://www.amazon.com/Adam-Frankenstein-Fear-Sheila-English-ebook/dp/B07Z7JBNF7/
The Faith Healer's Daughters Trilogy
Keeper of the Light https://www.amazon.com/Keeper-Light-Faith-Healers-Daughters-ebook/dp/B01C67IXNA
Keeper of the Dead https://www.amazon.com/Keeper-Dead-Faith-Healers-Daughters-ebook/dp/B01MXEJ4RD
Keeper of Souls https://www.amazon.com/Keeper-Souls-Faith-Healers-Daughters-ebook/dp/B077852C97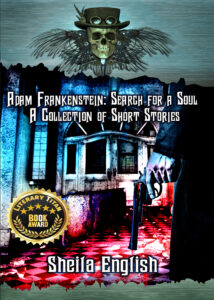 A Short Story from the Adam Frankenstein Short Story Collection
The Therapist and the Dead
Brooklyn, NY – November 1982 
      The snow danced along the wind, becoming nearly iridescent as it spiraled from shadow to a street light where it swirled in the spotlight and out again.  Adam Frankenstein paused on his walk from Bay Parkway near Ft. Hamilton in the park and looked at the large cannon, a monument to the still-operational military fort.  Looking at the starless sky and gently falling snow he marveled at the uniqueness of Brooklyn with its loyalty to the past.  The Verrazano Bridge could be seen from where he stood, even if just a portion and he wished one day to walk the length of the bridge, that marvel of man, stretching longer than the Golden Gate by 60 feet.  Perhaps one day, he thought.  Currently it only allowed vehicles to cross it except for special occasions.
     The weather in Brooklyn was as dependable as its people.  Winter announced itself even though it wasn't officially here yet.  At 8 o'clock in the evening night was truly upon the city, dark and cold and dangerous.  Though, as Adam grew nearer to Bay Ridge, tonight's destination, the criminal activity thinned.  Perhaps there was less criminal activity because of the cold, though Adam guessed it was between 35 and 40 degrees out, certainly not cold enough to close down this city.  It could be because the more upscale area of the city, in which he now walked, was better patrolled by police.  Likely, it was that today was the day after Thanksgiving and many were either on holiday or still enjoying the peaceful respite and gentle remembrances that this uniquely American holiday represented.  Even criminals had family who loved them, he mused.  They had homes to go to and people who wanted them.
     Adam continued walking, picking up the pace so his companion wouldn't be out in the cold much longer.  She had grumbled over his choice of her attire, finally accepting the sweater but completely refusing the footwear regardless of his insistence.  Glancing over his shoulder he saw her hanging back a few feet, still angry about being forced to do something she didn't want to do, punishing him by refusing to walk beside him.
     "Bella," he grumbled.  "Stop pouting and get up here."
     The ten pound Harlequin Miniature Pinscher stopped and sat down in defiance.  The small dog had been his only companion for over a century and they understood each other.
     Adam stopped and turned to face her.  "Get over it.  It's cold out and you need to wear something warm.  It can't be helped that there's a pink poodle on your sweater.  We work with what we've got."
     She barked, bringing a puff of white into the air from her warm breath which did nothing to encourage Adam to remove the offensive sweater.
     "Okay, once we get to Dr. Stein's office I'll take it off," he relented.  They understood each other alright.  Bella understood she was in charge and Adam understood she was right. He just couldn't let her know he understood.  "But when we leave, it goes back on."
     She hesitated, as though considering the offer, then stood and slowly caught up with him as he turned and continued on his way.
     As he watched the pavement beside him turn to cobblestone he knew he'd made it to Bay Ridge.  A line of homes,  similar in structure; limestone, beveled fronts, tall stairs to the doors all encased in a line of black metal fencing and gates, lined the street as far as he could see.  Bay Ridge was called Doctor's Row by some, but most people recalled the area from a famous movie released not long ago called Saturday Night Fever.
     Where Bay Parkway had very little holiday decoration, Bay Ridge had started celebration of Christmas early.  Multi-colored holiday lights wrapped around step rails or atop fence railing, some blinking cheerily in the dark cold, some simply lighting the way for pedestrians.  Some of the small gates had large red ribbons tied to them; several doors had wreaths of holly or silver bells.
     Adam couldn't help noticing the flurry of activity within the homes, curtains left partially open, inviting passersby to peak into their joyful lives.  Children laughing as they helped decorate a tree, a couple dancing to Christmas music.  In one of the homes a window was partial lifted allowing the aroma of apple pie and caramel to drift out and ride the wind over to him and Bella.  Looking down at her he smiled as she lifted her head to sniff the air.
     "Smells good," he said, and continued walking.
     Adam watched the numbers on the houses as they descended.  Stopping, he turned to look at the home of Dr. David Stein.  Stein's home was devoid of decoration, but the light over the doorframe was bright and the stairs well lit.  The doctor's curtains were closed with heavy drapes giving no hint as to whether lights were on or off within.  Looking further skyward, the second story windows were equally covered.
     "Dr. Stein is very serious about his privacy I think," he said as he and Bella walked through the small gate and headed up the steep concrete stairs.
     The door was black with brass fixtures.  The numbers over the door were brass, the doorknob, the mail slot and the decorative doorbell.  Adam pressed the button and heard footfalls immediately.  The door swung open and a tall thin man with a long beard and mustache, dark eyes and high forehead peered out at them, a frown etched across his face that deepened when he looked down at Bella.
     Adam picked her up, producing a handkerchief from his pocket and began cleaning her paws as he waited for an invitation to enter.
     "You're late," Stein said, making no move to allow Adam in.  Instead he closed the door just a little, partially hiding himself and looking Adam up and down suspiciously.
     "As you can imagine, I have a difficult time getting a taxi to stop for me.  My size is intimidating and my face, well…" Adam leaned further into the light, allowing the doctor to see his scarred face.
     Stein shut the door another inch, leaving only his head sticking out.  "Yes, well, be that as it may, you're half an hour late, so we'll need to reschedule."  He looked at Bella once more.  "And I don't allow dogs into my home.  Dogs are dirty and ill behaved."
     "Not my dog," Adam assured him, setting Bella at his feet and patting her head.  "Tonight is the only night I have."
     The man moved back as though Adam had thrown something disgusting at him, and then realized the movement caused the door to open wider and moved back to his former position.  Adam watched the man's hand move over his chest, rubbing as though to soothe.  As though stressed to pain.
     "Mr. Frank, regardless of the money, no therapist can be expected to truly help you if you are planning on having only one session," he assured Adam.  "It's ludicrous to think otherwise."
     Adam began to feel warmer from the inside out and he clenched his jaw over and over while considering his next move.
     "You misunderstand me, Dr. Stein."  Adam drew in a lungful of air, letting it out in a slow line of white fog.  "What I mean is that this is the only time I'm willing to meet with you to determine our relationship.  If you are unavailable this evening I'll not be returning."
     The man appeared struck, his brows knitting together, the corners of his mouth downturned.  "Do you know who I am?"
     "I do," Adam answered.  "Which is why you are my first choice.  You are, however, not the only choice.  So, though I'd certainly prefer you, if you don't feel you can accommodate me, I understand."
     The door opened slightly as the man considered this.  Adam had the feeling Stein had made up his mind, but was allowing them to stand out in the cold as evidence of his ire.  From within the house Adam could smell chicken soup and fresh baked bread, and underneath that was the odor of bleach, or some similar chemical.
     "The price is double for the inconvenience and for the dog," he stated.  His brows, now highly arched looked at Adam in challenge.
     "You doubled your normal price to meet at your home and doubled it again to meet at night.  Are we doubling it once more because I brought my dog?"
     "You are the one, a stranger, asking to do your session in my private home, at much inconvenience to me.  Then you show up late when you should have known you'd have difficulties with transportation.  You've already informed me that you've been disfigured for years, so I know you realize your own challenges.  You don't bother asking me how I feel about having an animal in my home.  For all you know I have an allergy or a fear of dogs.  I am happy to accommodate you, but you must be equally happy to accommodate the price for getting what you want, the way you want, at the time you want."
     Adam let the seconds tick by before answering.  "I hope you're as good as I've been told.  You have a deal Dr. Stein."
     "I'll need the check tonight, or course."  He slowly opened the door and stepped back allowing Adam and Bella to enter.
     "Of course," Adam answered.
     Once inside, Dr. Stein took Adam's leather jacket and hung it on a coat rack in the hall.  Adam removed Bella's sweater and stuffed it into one of the jacket's pockets.  Bella shook her body and wagged her tail in triumph.
     "Follow me into my study.  Everything is set up there."  Dr. Stein brought them down the hall where Adam noticed several commendations, certificates, works of art, but no family photos.  There were, however, several stuffed birds mounted and encased in displays along the way, leaving Adam to wonder if the chemical odor he smelled was diluted formaldehyde, or some other chemical associated with the art of taxidermy.   
     The study was located on the first floor.  Once inside, Dr. Stein motioned to an overstuffed chair that appeared to have been moved into the corner so that it sat beside Dr. Stein's large desk.  The mahogany desk had a colorful Paradise Parrot mounted on a small perch on the side of the desk furthest from Adam.  A large empty space near a tall floor lamp, next to a stack of books, is where Adam thought the chair normally lived.  He took the seat, Bella immediately making herself comfortable on the rug near his feet.
     Dr. Stein looked at Bella for a moment, but instead of commenting on her he said, "Would you care for some tea perhaps?"
     "No, thank you," Adam answered.  He and Bella had taken their meal at the hotel and, as a rule, didn't accept drinks from strangers unless the drinks came sealed.
     As Dr. Stein took his seat at the large desk he pulled a file from the top and opened it.  Adam saw his name, an alias, written on the manila file.
     "I see you receive the paperwork I faxed earlier this week," Adam said.
     Dr. Stein peered over the file.  "Yes, it's a great deal of information.  I've had a chance to read it all. I've made some notes here that I'll be referring to in a moment."  Dr. Stein had a cup on the desk already and he picked it up, sipped, and set it down again.  "What I don't see here, or at least what's not exactly clear to me, is what specifically you are here for, Mr. Frank?"
     Adam smiled, relaxing back into the chair.  The aroma of Orange Pekoe tea wafted through the air and Adam breathed it in, savoring it.  He was more of an Earl Gray man when he drank tea, but loved the smell of fruit, any fruit. He always had.
     Somewhere in the house, above them, but not directly, music played.  Adam recognized the song; Steve Miller Band's Abracadabra, which surprised him since he had Dr. Stein pegged as a classics man.
     "Is there someone else here?" Adam asked.  "I hear music."
     Stein's eyes cut straight to the roof for just a moment.  "No.  I must have left the radio on."
     A low growl from the floor brought Adam's attention to Bella.  Her gaze was focused on him, communicating with raised hackles and eyes that shined in the minimal light.  Adam held her gaze a few seconds.  "Bella," he said quietly, not a reprimand, but more a release command.  She remained in place, but grew quiet once more.
     "I'm sorry, Dr. Stein, what was the question again?" Adam relaxed back once more.
     "Is there going to be trouble with your animal?" Stein asked, a worried look crossing his face as he leaned to the side in an attempt to see her.
     "Bella is fine, doctor," he assured the man.  "I believe I recall the question.  You asked what specifically brought me here, correct?"
     Stein sat upright once more, sipped his tea and answered, "Yes, from your rather significant list of issues, I'm unclear as to what exactly you'd like to work on.  I see issues with your parents."
     Adam interrupted, "I have no parents."
     "I understand that they are deceased, but here you refer to them as your makers.  A very sterile way to refer to your parents."  Adam started to respond, but Stein moved on.  "Are you wishing to discuss your relationship with them?"
     "Not particularly, no." Adam answered.  Looking around the room as Stein referred to his notes Adam spotted a group of vintage books.  "Do you read the great philosophers, Dr. Stein?" Adam motioned to the books.  "Plato, Aristotle, Socrates, Confucius," he read them off.  "But, you don't have Nietzsche.  He was quite the interesting fellow."
     Dr. Stein glanced at the books for a moment, and then set Adam's file down on the desk.  "I read that you are an agnostic.  As a man who finds Nietzsche an interesting fellow, do you agree with him that God is Dead?  Are you in a crisis of faith?"
     Adam crossed his legs, then uncrossed them and shifted forward in his chair.  "I was born in a crisis of faith, doctor.  But, no, to answer your questions, I do not believe God is dead.  I believe Nietzsche had a problem with the church and that extended out to God.  He was brilliant and confused and died a shadow of his former self."
     "So are you an admirer of only Nietzsche, or of all philosophers?" Stein asked.
     "Understand, I admired Nietzsche, but I disagreed with him in equal measure to that in which I agreed.  I found him fascinating, and enjoyed him.  But, I do admire other philosophers as well.  A deep and critical look at who we are as individuals and together, reflections on what drives us or makes us feel or react, it's all interesting to me.  Human nature examining itself, devoted to wisdom, seeking it, trying to understand it."
     The music upstairs changed and Joan Jett sang about her love for rock n' roll.  A loud thump as though a book or other object fell on a carpeted floor jolted the doctor from his chair.
     "Excuse me," he said, and then rapid footstep ascended to the second floor leaving Adam and Bella alone for several minutes.
     "Bella," Adam said her name and she was at once alert.  "I need you to go upstairs and see what the doctor has going on up there."
     She stood, but footsteps descended and the doctor rounded the corner, his expression hard to read.  Bella lay down quietly as the doctor took his seat.
     "We'll not be disturbed by music now," he promised.
     "And the loud noise?" Adam questioned.
     "A window was open and the breeze knocked something over."
     Bella's low growl and accompanying raised hackles gained her Adam's attention, but he shook his head at her and she quieted again.
     "Mr. Frank, as I don't have much more time, let's get down to it, shall we?  What has brought you to me?"
     "A ghost," Adam told him, waiting for Dr. Stein to flip through his file, likely buying time to reply.
     He sat the file down once more and sipped his tea.  "Tell me about this ghost."
     Adam sat forward, elbows on knees, pinning Stein with a serious gaze.  "It's not often I'm visited by spirits.  I'm often an enigma to them and, like people, they tend to stay clear of me.  But, a few weeks ago I began dreaming of a young boy.  Eight or nine perhaps, with blond hair and black eyes.  Though the boys eyes could have been any color before he was dead.  Most ghosts I've encountered have nothing but blackness where their eyes once were."  Stein said nothing, so Adam continued.  "I saw him in a forest at first, then he moved and I knew he was in New York when I saw the Brooklyn Bridge behind him.  Persistent, the boy returned again and again until I could no longer sleep.  Each visit he grew clearer in my mind's eye.  Each time his clothes were dirtier, or perhaps singed.  Then, last week, he spoke to me."
     Dr. Stein held up his hand and Adam stopped.  "Do you feel this boy is you?"
     "No."  Adam answered.
     "Do you know who the boy is?"
     "No."
     "What do you believe the boy represents?"
     Adam stood and walked the length of the doctor's bookshelves, stopped where the collection of philosophy books were displayed.  "Did you know that Plutarch believed in the supernatural?"  He didn't wait for an answer, but made his way back, stopping in front of the doctor's desk.  "Even brilliant men know there's something beyond the grave."
     "Does the boy represent the supernatural to you?" Stein asked.
     "I believe the boy represents nothing.  He is delivering a message."  Adam took his seat as the doctor reached for his tea.  "He is a murdered boy and wishes me to search for his brother."
     Dr. Stein coughed, setting his tea back on the desk.  He cleared his throat, wiping his mouth with the back of his hand.  "And do you truly believe you are seeing ghosts, Mr. Frank?"
     "I believe that each night, when I look for solace in slumber, a fair-haired boy in a school uniform visit me to make a request.  It's the same request each time."
     Stein looked at a clock on the far wall.  His eyes cut to the ceiling and he turned his head slightly as though listening.  Swallowing hard he sat back in his chair, picking up a pen that he began to click open and shut.
     "You're having a difficult time sleeping, which I can give you a prescription for, or course.  Reading your file, it's not hard to understand where the dream originates from.  You're an orphan yourself, left to a cruel world which will not accept you due to your unusual disfigurement and size.  You long to be small, an innocent child, enlisting help from someone stronger than you."  Stein rushed the words together, sipped his tea, hands shaking until he threw the pen on the desk, and swallowed hard.
     Above him Adam could hear the pitter-patter of Bella's feet as she went from one room to the other, but the doctor didn't hear, he focused on clock, on his tea, on anything but furthering the conversation, so Adam responded.  "Each night the boy asks me to find Frederick.  Find his brother and take him home."
     Stein gasped, his cup falling to the floor.  "Who are you?" he demanded, standing so quickly that his chair tipped over behind him.
     Two sharp barks sounded and Dr. Stein started around his desk, eyes cutting between Adam and the sounds above.  Adam moved, blocking him in.
     "Tell me about Frederick," Adam kept his voice calm as he gently guided the doctor back, picking up his chair.  "I know he's upstairs, locked in a room."
     Red moved up the doctor's neck and into his face, but Adam wasn't sure if the man was enraged or about to have a heart attack.  The wetness in the man's eyes caught the light and shined, giving him the appearance of one fevered with fear.
     A door opened above and Bella's excited barks became muffled as the door closed again.
     "He won't harm your dog," Stein said, reaching into a top drawer and bringing out a small flask.  "Freddy likes dogs.  He's likely thrilled at the intrusion."  Removing the top he drank deeply from the flask.
     "Is the boy alright? " Adam asked.  He realized the boy had not been locked away or he'd not have been able to admit Bella into his room.
     "You tell me, Mr. Frank," Stein answered.  "You're the one communing with ghosts.  What did Albert say?"
     "Albert?  Is that the name of the other boy? He never told me his name," Adam felt the fine hairs on the back of his neck stand at attention as the temperature of the room dropped significantly.  "Tell me what you did to them."
     Stein looked around the room as though waiting for an apparition to appear, but it was no longer fear in his eyes, it was altogether something else, but Adam couldn't name it, so he asked again.  "What did you do to Albert and Frederick?"
     "Do?" he asked Adam, confusion causing his eyes to grow large and round.  "I loved them."
     Bella barked, a child laughed and Adam wondered what kind of love left one boy dead and another imprisoned in an unlocked room.  Adam moved the large chair directly in front of Dr. Stein and took a seat.  "I was sent here by a dead boy to save his brother," Adam began, "But, how he died was not revealed.  Perhaps you can enlighten me on this?"
     Dr. Stein drank again from the flask before setting it down on the desk with shaky hands.  "God is dead, Mr. Frank, just as Nietzsche said."  Stein looked at Adam, but the man's eyes seemed to look through him, seeing something not in the room.  His words puffed out on white clouds, the cold more prominent than it had been out in the new-falling snow.  "Albert and Frederick were twins.  They were very special.  You see, Albert was unusually bright, quiet and thoughtful.  Frederick was born with Down Syndrome, simple but so outgoing, so loving, especially close to his brother.  Other than sharing a womb, they seemed completely different from one another, but they were inseparable.
     "They were born in the late 1960's and as the boys grew older their mother opted to home school them, so they could remain together.  But, it was far more difficult than she imagined, I think.  So, in the early 1970's as advocacy groups began to insist on the rights of the mentally disabled and laws began to change, she opted to allow them to attend school together."
     Something about Dr. Stein's statement caused Adam to pause, but he hadn't the time to examine it yet and wanted the doctor to continue, which he did.
     "Back then, the schools segregated people like Frederick from the rest of the student population.  Laws continued to evolve, but New York was slow to adapt and their mother, Ruth, began to pressure the system.  She was a fighter, Ruth."  Stein paused a moment, smiling at the recollection.  "Albert had exceeded all expectations in school and was a crown jewel there, winning academic scholarships by the time he was eight.  Unheard of! They wanted to place him in a special school for gifted boys, but Albert wouldn't leave his brother behind.  Oh, they pleaded with Ruth to encourage the boy to take advantage of such an opportunity, but she'd not be swayed. And she grew more angry about how little was done for Frederick.  She fought so many battles with that school and with Frederick's teacher."  Stein's far away gaze narrowed, scowling as he mentioned the treatment of Frederick, jaw clenching as he spoke of Frederick's teacher.
     Laughter filtered down to them, Bella barking and running back and forth as though the boy were perhaps throwing a ball for her to fetch.
     From his peripheral vision, Adam saw movement from the hall, a shadow that disappeared up the stairs before he could turn to identify it.  The cold receded and for a moment Adam wished for a flask of his own as quiet, even footsteps climbed the stairs.  A momentary worry for Bella gave way to curiosity as Stein continued, clearly oblivious to the addition of a visitor.
     "Ruth was to attend a parent-teacher meeting one evening and begged me to come with her.  She wanted me to make it clear that the boys needed to remain together.  She was tired of being harassed about moving Albert to another school and angry at Frederick's teacher for refusing to allow Albert to visit his brother during recess, which they'd done the year before.  She thought I could somehow sway them with my credentials."  Stein glanced out at the hallway where so many certificates and commendations hung.
     Adam heard the opening and closing of the door upstairs.  Bella barked, but there was no distress in her voice.  Giggling laughter filtered down and Adam heard whispers.
     "You look awful Albert." One boy, presumably Frederick, laughed.
     "You smell awful, Freddy."  Albert challenged good-naturedly.
     Stein shook his head as though clearing his memory.  "Did you say something?" he asked.
     It was quiet above, except for Bella's running, chasing and barking as though she was having the time of her life.  Bella had always been fond of children, seemed to actually prefer them, with the exception of Adam.
     Needing Dr. Stein to finish his story, Adam answered, "So, you were the boy's therapist then?"
     Stein blinked several times, and then frowned; looking at Adam as though he'd said something ridiculous.  "I was their father," he informed.  "Ruth was my wife.  And the one and only time she ever drew me into the dramatics of the boy's school life I turned her down.  I was busy.  I was being honored for something I don't even recall now and I was unhappy that she'd not be attending with me, so I punished her by refusing to support her in what she needed."
     A shock of adrenaline pulsed through Adam's body at the revelation.  He backtracked through his memory.  Adam knew he'd filtered the entire encounter through his own need to find Stein guilty with regard to what he did to children.  No family photos anywhere.  No holiday decoration.  No joy whatsoever filled this home.  Still, not everything added up.
     "What happened to Ruth, Dr. Stein?  Where is your wife?" Adam asked.
     Dr. Stein's eyes glazed over and filled with tears as he rubbed slowly at his chest.  "Dead." He paused a moment, the hand still over his heart, before looking directly at Adam, focused, accusing.  "Surely, you've heard of the Bay Shadow Killer?"
     Adam adjusted in his seat, sitting forward with interest.  "I'm not from here.  I've only been in New York a few months.  The dreams only started a few weeks ago.  Until then, I had no reason to inquire about you."  Other than some cursory inquires about the doctor's practice, he'd not been concerned with the man's history.  A pang of guilt hit his stomach.  He'd followed a ghost, certain the ghost was looking for justice and to save his brother.  Instead of questioning everything, he questioned only those things that would help him confirm what he wished to believe.  Still, he had to see it to the end.  Find the truth and help the dead boy. Scratch at the itch in the back of his mind that said something was off in what Stein had told him. "Tell me what happened."
     Stein nodded, grabbed his flask and fortified himself with a long, deep drink.  "The teacher, his name was Thomas Voller, he was in charge of mentally ill patients for the 3rd and 4th grades.  There was one other teacher in a different classroom and one assistant, but Voller had hand-picked the students he would teach himself and that year he'd chose Freddy.  Later, it would come out that Voller was molesting the children.  At some point Albert had come to see Freddy and Voller felt certain Albert had seen him with one of the little girls.  Of course, Albert hadn't, or he'd have reported it immediately, but Voller wasn't sure, so he ordered Albert to stay away.
     "It made Albert suspicious and he began questioning Freddy.  When Freddy got upset, Albert went to the principal's office and reported his suspicions.  The school tried to cover it up, but the secretary testified later and the principal was fired for warning Voller to stop instead of having him arrested.  And later Voller called Ruth to arrange for a late meeting at parent-teacher night, which happened that time every year.  Albert insisted he go to the meeting as well.  The last meeting of the night."
     Adam felt his stomach clench and he swallowed hard, wishing once more for his own flask.  He noted how pale Stein had become.  The man continued massaging his chest, an action Adam now recognized as soothing his grief, his broken heart.  Guilt shamed Adam, but he'd promised Albert he'd help.  But, now, something Albert said gave him pause and he tried to bring the details forward.  Something didn't quite add up still.  He needed time to think it over, but he also needed more information, so he encouraged Stein to continue.
     "Did your wife keep her appointment then?" Adam asked, realizing she must have, but needing Stein to get to the end of the story about what happened with the boys.
     "They found chloroform had been stolen from the science lab and some had spilled on rags in the closet in Voller's room.  Voller didn't clean up as well as he'd hoped and they found blood on the legs of some of the student desks.  Ruth's blood, and Albert's.  Later they found the baseball bat he'd used on them put away in the gym equipment room.  Also, not as clean as he'd hoped."
     "What of the bodies?" Adam asked.  "And what did he do with Frederick?"
      "He took them all out to Marine Park late that night.  Tried setting Ruth and Albert of fire," Stein's voice grew high-pitched as he pushed his fist at his mouth to stop the escaping sob.  "Some guys saw the flames and ran in to help.  Voller left Ruth burning, Albert's body next to her, and he grabbed Frederick who the guys said was alive at the time."
     "The men didn't chase after him?"  Adam couldn't suppress his anger.  "They let Voller take your son?"
     "They thought he'd shot Ruth and Albert.  That he had a gun.  They put the flames out and called the police.  And they'd seen his face."  Stein composed himself, his eyes still wet, but his voice under his command.  "Voller stashed Fredrick and went back to the school to make sure he'd left nothing behind.  But, Ruth was never late so I'd called the police by that time.  The police put it all together and arrested Voller."
     "What about Frederick, then?"
     "I wasn't going to let Voller get his hands on Frederick again, so I joined the search party, but I went earlier than everyone else.  And I found him.  In a marsh area.  But, I'd lost my wife, my son, they were all dead." Stein drained the flask setting it hard on his desk.  It tipped, but there was nothing to spill out, still he stared at it.  "Wild dogs had gotten to Frederick and I got there just in time.  Beat them with a walking stick I'd brought with me."  He sighed loudly, looking longingly at the flask.  "I brought him home."
     "But you never told anyone?" Adam.
     "They'd have taken him from me," Stein argued, but without much passion.  "I'm not a fit parent to raise a boy like Frederick on my own."
     "What about his wounds from the wild dogs? And the police?"  Adam asked.  Giggling came from above, but this time it caught Stein's interest and Adam had to asking again in order to gain the man's attention.  "Dr. Stein? Frederick's wounds? The police?"
     Stein blinked hard and leaned back in the chair as though exhausted.  "I took care of everything, of course.  I have the training.  The material.  And when the police came they just told me Voller had confessed but they'd not been able to locate Frederick.  They suspected that he ended up in the water.  They searched there, but of course…nothing."
     Whispering voices and quiet laughter brought Stein to his feet and he was pulled to the stairs and up to the door above as though there were a magnet that called to souls.  Adam followed him, remaining just a few feet behind, allowing Stein time to adjust to hearing the sound of Albert's laughter.
     Adam hadn't heard Albert laugh in his dreams, only his mournful and quiet voice asking Adam to bring his brother home.  Adam stopped as Stein opened the door, cold fingers of air reaching out to caress them both as the door swung open.
     It struck Adam in that moment.  What didn't add up.  It was 1982.  Stein said the boys were born in the late 1960's.  The voices were of young boys, but Frederick had to be at least in his early teens by now.
     As Stein crossed the threshold Bella barked at an open window with billowing curtains.  The window slammed shut as they entered and the laughter stopped.  Bella barked at the closed window, and then walked over to Frederick who sat in a rocking chair nearby, a small red ball in his hand.  She nosed the boy's hand, stepped back and wagged her tail.
     Adam walked around Stein who stood in the center of the room staring at the closed window.  The room was cold and he could see Stein and Bella breathing out warm air, Bella's fast and shallow from playing and Stein's long and slow as he considered Albert's abrupt departure.
     Adam came to the boy and knelt down to be more on eye-level with him.  Icy fingers crawled up Adam's spine as he took the red ball gently from the dead boy's hand.  Stein had done extensive work on Frederick's face where the dogs had marred his flesh.  The eyes weren't quite right, but they seemed a high quality glass.  The doctor had been able to get a smile on the face, but the last few years, or perhaps from a lack of the right material to fully realize a human subject, the color wasn't quite right and some of the skin on the face sagged around the eyes.  The doctor's taxidermy skills on the birds Adam had seen throughout the house shown a true talent, but something this large was extremely difficult to keep lifelike.
     Stein walked up next to him and put his hand out.  Adam looked up, handed the man the red ball and stood.
     "I didn't know he had a red ball," Stein said in a nearly monotone voice as he examined the orb.
     "I'm sorry for your loss," Adam replied, the hollow feelings of inadequacy opened his heart so cold guilt could fill it.  In all of Adam's existence he'd been judged without ever being asked about who he was, what he was, what he was doing, no questions at all.  People judged him in silence, walking by quickly to get far away, not making eye contact, or speaking angrily or in fear under their breath as they walked by.  And he'd felt the injustice of it, but it hadn't kept him from doing the same to Dr. Stein. "I'm sorry."
     Stein hadn't noticed Adam's apology.  He continued looking lovingly at his dead son.  "I told you they were close," he said, rubbing absently at his broken heart.  "Far more alike now than they ever were in life."
     "How have you kept this hidden for so long?" Adam asked, curious how a man could do such a thing but still function in society as though he had no tragic history to contend with.
     "My practice had been in Manhattan.  I came to Brooklyn.  Made sense, since I live here.  I fired the entire staff.  Broke off with those who would pity me.  Those who would remind me by their sheer existence that I had once had a different life.  In a single act of selfishness, I let my family be murdered.  I left them alone, unprotected, because I had better things to do."  The man's voice cracked and Adam watched a tear fall from his face to land on the dead boy's knee.
     "You must realize it is time to let him go," Adam said, resting his hand gently on David Stein's shoulder.  When Stein didn't reject the touch Adam continued speaking.  "Albert sought me out to bring his brother home.  And I need your help to reunite the brothers.  Tell me, Dr. Stein, where is home?"
     "If you take him, I will be alone."  Stein's voice carried pain that Adam understood completely.  "I left my friends behind.  Was cold to my family until they finally gave up.  I couldn't have visitors, you see."
     If it hadn't been for Albert insisting that Frederick be brought home, Adam would have left the doctor and never returned.  But, Frederick's brother wouldn't rest until the boys were reunited.  Adam could only guess at why Albert had reached out after all these years.  Perhaps the boy was looking for the right person to communicate with.  Though, admittedly, Adam had never considered himself one that commonly communicates with the dead.
     "Believe me when I say that I understand," Adam offered.  "But, it's time.  He must rejoin his brother and mother.  You've had him long enough."
     Stein smirked, but his voice was still full of grief when he spoke.  "Spoken like someone who's never had a child."  He put the ball back in Frederick's hand and sighed deeply, glancing at the closed window.  "But, I suppose you're right.  I shouldn't keep the boys apart if they want to be together." He turned to Adam, cheeks wet, defeated by grief.  "His home is at Green Wood.  I can draw you a map, the place is huge.  But, I can't go with you."
     "Of course not, I didn't expect you to." Adam agreed.  "Would you like me to leave Bella with you?  Just until I get back?"
     Stein looked at the red ball and smiled.  "Both the boys seem to enjoy your little dog, Mr. Frank.  I think I might enjoy the company."
     Bella wagged her tail, no sign that the doctor was lying about being happy for the company.
     "I'm going to have Bella go with you downstairs.  I'll need your car keys, a blanket to wrap him in and whatever tools you have on hand."
     Stein nodded.  "I have what you need."  He turned, but hesitated and said, "The boys share a headstone.  When they didn't find Frederick's body they assumed he was dead and we put their names together.  Is it possible to keep them together?  You know, when you return Frederick home."
     "Of course, Dr. Stein," Adam answered.  "Now, why don't you go downstairs and make some tea.  Leave your keys out for me. I'll find my way to your garage for tools."
     Stein nodded and followed Bella downstairs without a backward glance.
***
     Dawn broke the night sky with ribbons of yellow and pink just as Adam pulled into Dr. Stein's garage.  The frozen ground had complicated things, but Adam was resourceful and found the equipment he needed to get the job done.
     The garage door closed behind him and he got out, putting away the tools he'd taken, making sure they were clean.  It was silent inside, which he expected and he took his time even when he went into the house.  A detour to the restroom to clean up had him looking at his reflection in a mirror, chastising himself as he'd done all night, for judging Dr. Stein so harshly.
     Adam assumed the boys were happy to be reunited, but neither had come to thank him.  The cemetery was quiet and not even the dead came out in the cold to watch him.  At least none that made themselves known to him.
     The sound of scratching at the bathroom door had him drying his hands quickly and he opened it. Bella stood there, a single bark, shrill and urgent had him following her upstairs to a room he'd not entered before.  Next to Frederick's room he found Dr. Stein lying fully clothed on his bed, hand over his heart as though he'd been rubbing it.  His eyes were open, but he appeared calm even in death.
     "I'm glad you were here, my friend," Adam said, petting Bella's head once she'd jumped up on the bed with Dr. Stein.  "No one wants to die alone."  Adam noted the red ball still in the man's hand.
     Adam called the police, telling them the doctor hadn't kept his appointment and asked someone to check on him.
     "Let's go Bella," Adam said and she jumped from the bed and preceded him down the stairs.  "I think Dr. Stein's heart couldn't take the thought of being alone."  He mused out loud, and Bella turned in the hallway as though she were interested in what he was saying.  "Now he's not."
  Walking out into the new day, air filtered by snow, clean and cold, Adam took a lungful of air and pulled his collar up, more to hide his disfigured face than to stem the cold.  Bella pranced at his feet, happy he'd been unable to find her sweater. A cab turned down the street and Adam whistled, throwing his hand up.  The cab banked toward the sidewalk, slowing, but as Adam approached the driver's eyes grew large and he quickly turned back onto the street.  Adam watched the cab turn the corner and out of sight.
     "Dr. Stein did say I could borrow his car." Adam turned back to the house, whistled for Bella and went inside, where the dead were more welcoming than the living.  And more helpful.
The End