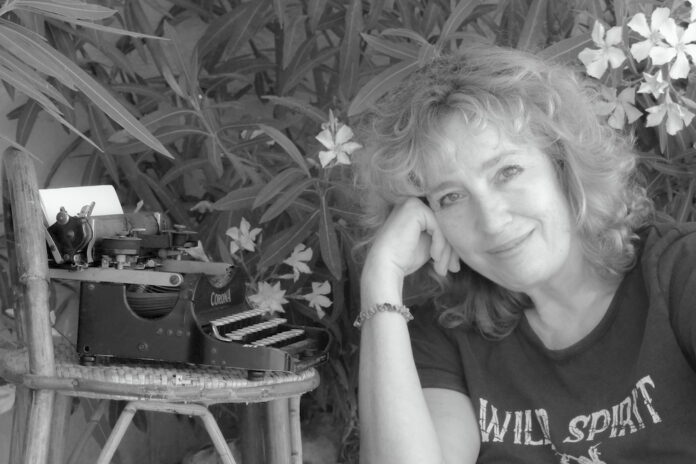 What Scares Authors? Featuring Andrea Faye Christians
Apart from big hairy legged leg spiders that frequently inhabit the bathtub and Maltese cockroaches that look like something from an Alien movie, I do not think there is much that scares me in this world. It is what is in the next world that worries me. That parallel dimension that could be everywhere but not anywhere, that is the stuff of nightmares!
As a little girl, I was immune to the Bogey Man under the bed. It was the insistent tapping on the bedroom window by the branch of the tree just outside, that had me peeping over the bed covers. Or a doll, with not such a vacant, banal smile, sitting menacingly in the shadowy corner. Yes – memories of Chuckey left me with serious toy issues, and we will not even talk about clowns!
Then, of course, there was the teenage rite of passage of the group watching of horror movies with copious quantities of fake blood combined with stomach curdling screams that usually ended up with me hiding behind the sofa and losing the little street credibility that I had.
It's hardly surprising, then, that such experiences found their way into my writing and that Suspension, Book 1 of the Time Binder Series, can be considered to be something of an exorcism of my night-time terrors and teenage angst rolled into one.
Who is not intrigued by the idea of what comes after this life and what, in fact, are we doing here? These pressing questions have always lurked somewhere in the back of my subconscious and the story that became Suspension can be regarded as a product of that.
As the days get shorter, nights get darker and we lurch towards Halloween, Trick or Treat and All Saints Day, is it any wonder that goosebumps prevail as we obsess about things that go bump in the night? What better way to embrace that mood than sit in a cosy room and read a book that takes you on a roller coaster ride between life and death with a protagonist who at first does not even realise that she is dead.
Throw in a smattering of quirky characters, in the form of Isambard Brunel and Hemmingway and historical events and the result is an eclectic mix of history combined with fantasy that propels the reader on a journey through time in a rollercoaster tale.
Lucid House published Suspension in June 2022. It was great fun to write with Happenstance, Book 2 of the Time Binder Series, scheduled for Autumn/Fall 2023 and hopefully will also not disappoint in the thrills department!
Here's a quick look at Andrea's latest release SUSPENSION:
Book I of the Time Binder Series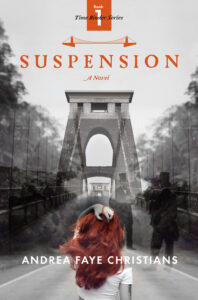 An unexpected time travel tale. When Carla Thompson falls asleep and doesn't wake
up, she is shocked to discover what destiny has in store for her. Suspended between
two worlds, she meets Isambard Brunel, the legendary eighteenth-century civil
engineer, who built the Clifton Suspension Bridge in Bristol, England, and who now
serves as guardian of its secrets. Historical events intertwine with Carla's current reality
and along the way she discovers a murder, encounters a host of characters including
Jamaican psychic, Matilda, and engages in verbal banter with literary legend, Ernest
Hemingway. Her adventures lead her to a startling revelation about why she was
chosen for her strange new role. In death Carla realises she has never felt more alive.
Bookshop.org
Amazon.com
Barnes & Noble
Book Depository
ABOUT THE AUTHOR:
Andrea Faye Christians was born and raised in Swansea, South Wales. Following a
successful career in British radio including the BBC, she moved to the southern
Mediterranean island of Malta to pursue her dream of becoming a freelance writer. A
decade later she bought a farm in the Madonie mountains of Sicily where a menagerie
of rescue animals found their way to her. With a son in Malta and a daughter in Sicily,
Andrea has a home and her heart in both places, and she now divides her time between
the neighbouring islands. Suspension is her debut novel. She is working on the second
book in the Time Binder Series as well as a novel entitled Chemo Club.