THE BACKSIDE OF HADES! By Ann Charles and Sam Lucky
First let me say, this here trip to Slagton weren't my idea. This place is chock full of bad company done helped itself to a double dose of bad medicine.
Slagton needs cleanin', accordin' to Miss Clem, and I know the crew to do it. I'm one of 'em. Hank Varney's the name. Miss Clem and me, along with the two Sidewinders from Santa Fe—we'll get the sharp-toothed vermin cleared out.
Now, some people say I'm lucky, but I don't know if'n it'll do me any good, what with the army of trouble me an' the crew are facin'. If'n we don't live through it, well, there goes Deadwood. Maybe even the whole of the Black Hills.
We'll all be down the privy hole then, lookin' up at the Backside of Hades.
Amazon.com: The Backside of Hades (Deadwood Undertaker Series Book 4) eBook : Lucky, Sam, Charles, Ann: Books
The Backside of Hades (Deadwood Undertaker Series Book 4) eBook : Lucky, Sam, Charles, Ann: Amazon.ca: Kindle Store
ABOUT THE AUTHORS: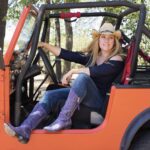 Ann Charles is a USA Today Best-Selling author who writes spicy, award-winning mysteries full of
Junction Mystery Series, Dig Site Mystery Series, Deadwood Undertaker Series (with her husband, Sam Lucky), and AC Silly Circus Mystery Series. Her Deadwood Mystery Series has won multiple national awards, including the Daphne du Maurier for Excellence in Mystery/Suspense. Ann has a B.A. in English with an emphasis on creative writing from the University of Washington and is a member of Sisters in Crime and Western Writers of America.
Ann Charles's Website: http://www.anncharles.com
Sam Lucky likes to build things—from Jeep engines to Old West buildings to fun stories. When he is not writing, feeding his kids, attempting to seduce his wife, or attending the goldurn cats, he is planning food-based book signing/road trips with his wife and working on one of his many home-improvement projects.
Sam Lucky's  Website: http://www.samlucky.com