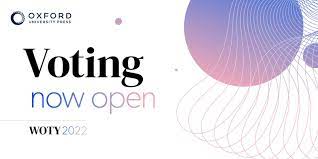 Oxford Languages / Dictionary is currently taking your votes for their 2022 Word of The Year. They've narrowed the field down the just three words, and you can help decide the outcome. Hurry – voting closes soon.
From their press release: 
2022 has been a year defined by opening back up. However, although we have finally been able to physically reunite and come together again, our world somehow feels more divided than ever.
In recognition of this shift, we wanted to open up the final step of our Word of the Year selection process to the true arbiters of language: people around the world. How we communicate and develop the English language affects Oxford's selection every year, but for the first time in its history, the 2022 Word of the Year will be chosen by the public.
Our team of expert lexicographers have narrowed down a longlist of worthy contestants to a final choice of three words.
Oxford's Word of the Year 2022. Voting will close at 00:01am on Friday 2nd December.