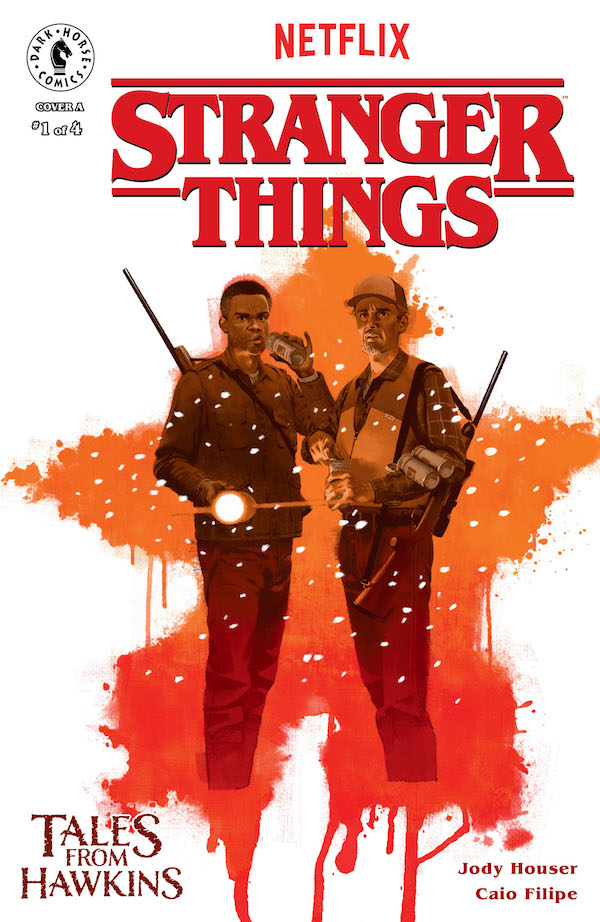 Dark Horse Presents A New 'Stranger Things' Anthology Comic Series
Award-winning writer Jody Houser (Critical Role: Vox Machina Origins, Star Wars: Thrawn) returns to pen an anthology of vibrant new stories woven into the larger tapestry of the hit Netflix series Stranger Things in Stranger Things: Tales From Hawkins! Joining Houser on her trip through Hawkins are artist Caio Filipe (Stranger Things: Summer Special, Nightwing), Sunando C (End After End), Giorgia Gio Esposito (Lunar Room, Dr. Who) colorist Dan Jackson (The Strain, Hellboy: Weird Tales), and letterer Nate Piekos (The Umbrella Academy, Black Hammer).
On the surface, Hawkins, Indiana seems like the kind of town where nothing too out of the ordinary ever happens, but in the fall of '83 it is anything but safe. In Issue #1 of Tales from Hawkins, two friends head out into the woods with their rifles and a six-pack. These would-be hunters find themselves the prey of a nightmarish beast who has claimed the wilderness around town and everything inside it, including them.
Stranger Things: Tales From Hawkins #1 (of four) will be in comic shops February 8, 2023. Artists Kyle Lambert, Diego Galindo, and Danny Luckert each contributed a variant cover for issue #1. All four variants are available for pre-order at your local comic shop.
Be sure to follow Dark Horse Comics on social media for more news, announcements, and updates.
Praise for Stranger Things and Dungeons & Dragons:
"Stranger Things and Dungeons & Dragons […] is a perfect amalgamation of growing up, friendship, and a passion for geek culture."–But Why Tho?
"A great comic, one that syncs up perfectly with both Stranger Things and the D&D experience."–Comicbook.com
"It's endearing and brightly illustrated, full of the hope and imagination that they all felt."–Monkeys Fighting Robots