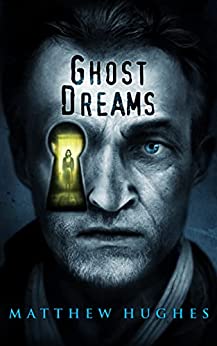 GHOST DREAMS By Matthew Hughes
Commercial burglar Stan Winkelman encounters the ghost of Jane Manchester, wrongly confined for life in a 1940s insane asylum by a powerful family. She wants to know what happened to Harmon, the baby boy that was stolen from her.
Aided by Jeannie, his ghost-obsessed autistic daughter, S Paranormal & Urban Fantasytan and Jane begin a quest to find Harmon, or his descendants. But their search will run them afoul of Andrew Bigelow, reclusive heir to the fortune Jane was robbed of.
And Bigelow is in cahoots with a murderous crew who deal in guns and blood diamonds and will stop at nothing to keep their crimes hidden.
Amazon.com: Ghost Dreams eBook : Hughes, Matthew: Kindle Store
Ghost Dreams eBook : Hughes, Matthew: Amazon.ca: Kindle Store
ABOUT THE AUTHOR:
 Matthew Hughes is a Canadian author of science fiction and fantasy.
His speculative fiction novels are: Fools Errant, Fool Me Twice, Black Brillion, Majestrum, The Commons, The Spiral Labyrinth, Template, Hespira, The Other, The Damned Busters, Costume Not Included, Hell to Pay, Song of the Serpent and Wolverine: Lifeblood (both as Hugh Matthews), A Wizard's Henchman, A God in Chains, Baldemar, and Passengers & Perils.
His magnum opus is What the Wind Brings, a historical novel with magical realism elements.  It was the first Canadian work to win the international Endeavour Award.  He waited more than forty years to write the novel, and spent a year composing several drafts, made possible by a $25,000 grant from the Canada Council for the Arts.
His major influence as a writer of speculative fiction is the Grandmaster Jack Vance.  Booklist has called Hughes Vance's "heir apparent."
In 2021, Vance's estate (Spatterlight Press), published Hughes's Barbarians of the Beyond, an authorized companion novel to Vance's iconic revenge series, The Demon Princes.  The book prompted George R.R. Martin to say, "Hughes does Jack Vance better than anyone except Jack himself."
His short fiction has appeared in Asimov's, Fantasy & Science Fiction, Lightspeed, Pulp Literature, Postscripts, Storyteller, Interzone, Amazing, Unfit, and several anthologies edited by Gardner Dozois and George R.R. Martin, including the bestseller, Rogues. 
His works have been short-listed for the Aurora, Locus, Nebula, Philip K Dick, A.E. Van Vogt, Neffy, Alberta Book Publishing, and Endeavour Awards.  
In 2020, he was inducted into the Canadian Science Fiction and Fantasy Association's Hall of Fame.
Before turning to writing fiction, he spent three decades as the top-ranked speechwriter in British Columbia, writing for leaders of all three provincial political parties and CEOs of the province's largest corporations.
Since 2007, he has traveled the world as a housesitter, living in twelve countries.
His web page is at https://www.matthewhughes.org