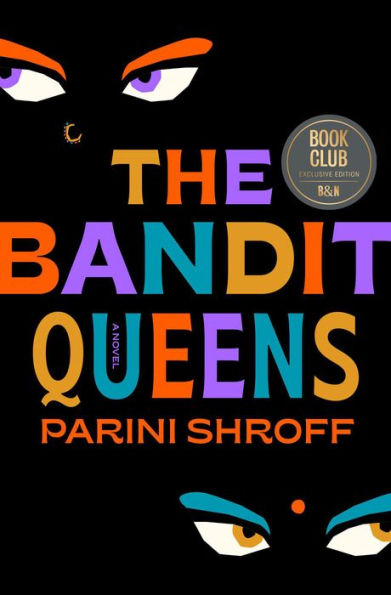 Readers are Invited to Attend a Free Live Virtual Book Club Discussion Featuring Parini Shroff on Tuesday, February 7 
Barnes & Noble is delighted to announce The Bandit Queens, the debut novel by Parini Shroff, as their first National Book Club pick of 2023. The Barnes & Noble Exclusive Edition features a special essay from the author.
"The Bandit Queens is an insightful and unforgettable story from a fresh voice, perfect for readers who loved the varied stylings of The Southern Book Club's Guide to Slaying Vampires and The Girl with the Louding Voice," said Shannon DeVito, Director of Books, Barnes &Noble. "With a deft hand and an impeccable eye for capturing detail, Parini Shroff has created a vivid story of women deeply rooted in Indian culture who deal in revenge…Shroff has ultimately written a propulsive thriller wrapped in plentiful amounts of humor and heart. This is one of those books that you just need to recommend to everyone, and I know our Book Club readers will agree."
The Barnes & Noble Book Club champions a newly published novel each month and unites readers across the country with a lively discussion. The Bandit Queens is a clever and razor-sharp debut novel set in a small Indian village that holds a new lens to the complexities of female friendships. Despite being falsely accused of killing her husband, Geeta comes to appreciate the unexpected benefits that accompany her notoriety – business is booming, and no one dares to threaten her. But once confronted with requests from other women looking to rid themselves of their own husbands, Geeta must face just how far she is willing to go to protect her reputation.
Barnes & Noble invites readers to attend a free live virtual event with Parini Shroff on Tuesday, February 7 at 3:00 PM ET, where the author will participate in an engaging roundtable conversation with Shannon DeVito, Director of Books at Barnes & Noble, and Miwa Messer, Executive Producer of Poured Over, the B&N Podcast. Attendees need to register via Eventbrite to access the live stream on Zoom.
Leading up to the event, readers can share their thoughts and engage in conversation on social media using the hashtag #BNBookClub.
"Like many writers, my childhood was spent greedily consuming books. I had my trusty library card, but each time my parents took me to our local Barnes & Noble, it was pretty much my Disneyland," said author, Parini Shroff. "I can still recall my elated excitement upon walking inside and being ensconced by books. Back then and to this day, to me, B&N represents possibility—the limitless possibility of other worlds. To be the January pick of the Barnes & Noble Book Club is a wonderful honor; thank you Barnes & Noble for helping this book be one possibility among the many you provide to readers."
Five years ago, Geeta lost her no-good husband. As in, she actually lost him—he walked out on her and she has no idea where he is. But in her remote village in India, rumor has it that Geeta killed him. And it's a rumor that just won't die.
It turns out that being known as a "self-made" widow comes with some perks. No one messes with her, harasses her, or tries to control (ahem, marry) her. It's even been good for business; no one dares to not buy her jewelry.
Freedom must look good on Geeta, because now other women are asking for her "expertise," making her an unwitting consultant for husband disposal.
And not all of them are asking nicely.
With Geeta's dangerous reputation becoming a double-edged sword, she has to find a way to protect the life she's built—but even the best-laid plans of would-be widows tend to go awry. What happens next sets in motion a chain of events that will change everything, not just for Geeta, but for all the women in their village.
Filled with clever criminals, second chances, and wry and witty women, Parini Shroff's The Bandit Queens is a razor-sharp debut of humor and heart that readers won't soon forget.