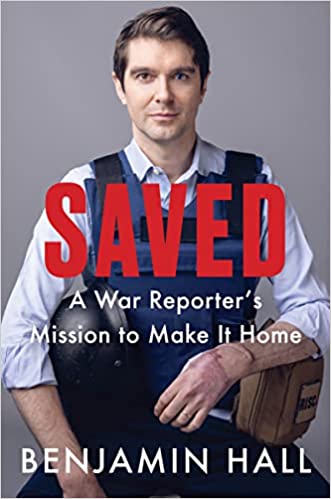 A War Reporter's Mission to Make It Home By Benjamin Hall
Dispatches from the Edge meets In an Instant in this dramatic memoir of war, family, resilience, and recovery from Benjamin Hall, the Fox News journalist who was gravely injured by a Russian drone attack in the early days of the invasion of Ukraine.
Over the course of his career, seasoned war correspondent Benjamin Hall covered some of the deadliest armed conflicts of our time, including violence in Syria, Libya, and Somalia. But with a young family at home, Hall chose to trade life on the edge for a safer beat covering the US Department of State.
Then Russia viciously attacked Ukraine in February 2022. Though he knew the dangers of war and was no longer traveling to war zones, Hall quickly accepted the assignment. He had to tell this story—Americans needed to understand the gravity of this stunning, world-altering conflict. Though he had witnessed and survived years of violence, on March 14, a month into the invasion of Ukraine, Hall and his crew were hit by a Russian drone strike, killing his cameraman and a fellow journalist and gravely injuring him. Stuck inside the warzone, it was feared Hall might not make it out alive.
This is the story of how he survived—including his dramatic rescue and his arduous and ongoing recovery. For the first time, Hall shares his experiences in full—of his time in Ukraine and on the frontlines of the world's most perilous conflicts, of the terrible attack that nearly killed him, of the love of his family, of the strength and perseverance it has taken to endure multiple surgeries and learn how to walk again.
Going inside the events that have permanently transformed him, Hall speaks honestly about the struggle to step away from the peril and how his years of experience kept him safe—until they failed him. And he pays tribute to American service members who not only helped save him, but decades earlier rescued his father, who, during World War II at age twelve, escaped a Japanese camp in the Philippines and eventually reached American GIs.
Most remarkably, Hall's spirit has remained undaunted throughout his ordeal—a spirit of hope and positivity which infuses this exceptional story. Evocative, harrowing, and deeply moving, Untitled is a powerful memoir of family and perseverance, of life and healing, and of what to do when you are tested in ways you never thought possible.