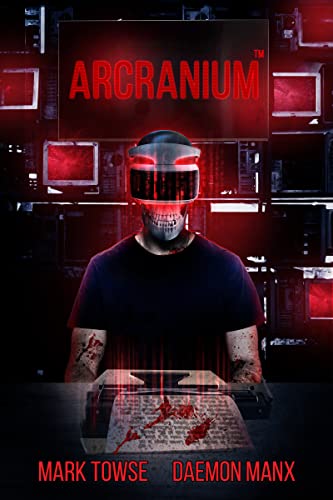 BOOK REVIEW:
Arcranium By Daemon Manx and Mark Towse
Artificial Intelligence has changed the face of art forever – Horror as imminent!
Co-authors Mark Towse and Daemon Manx have individually published horror stories and now they join to outdo their separate tales – two authors write about a possibility that is all too possible in a story about four authors and the peak of technology made real!
The gentlemen glide into their tale introducing the quartet – 'For the last three years, on the second Tuesday of every other month, Mike, Yas, Alex, and Noah had been meeting at The Gardner's Arms to discuss existing writing projects. There was never anything productive about said exchanges; they were to whinge, boast, bitch, and roast. All starting above board and good-natured, over-familiarity soon began to breed contempt which of late had extended to indignation and wrath. Their last ever reunion at The Gardner's Arms too place on May 2nd, 2032.' The difference in their interaction erupts as follows:' Four horror authors with four vulnerable egos, square off against one another, in the virtual world, to find out who is the scariest. Welcome to Arcranium™, a powerful technology that fuses with the author's mind to stimulate their best possible creation, immersing other participants in the narrative. It's all in good fun, but with so much pride at stake, things are bound to get a little bumpy once the gloves come off. So, strap your headset on and don't forget the safe word. The future of literature is about to get an upgrade. The future is … Arcranium™'
Providing an insider view of how writers think, as well as a magnifying glass to the vagaries of Artificial Intelligence and its permutations, this novel explodes with vigor and imagination. Hopefully these two gentlemen will continue bonding with books – they are terrific artists. Highly recommended.
Grady Harp Review