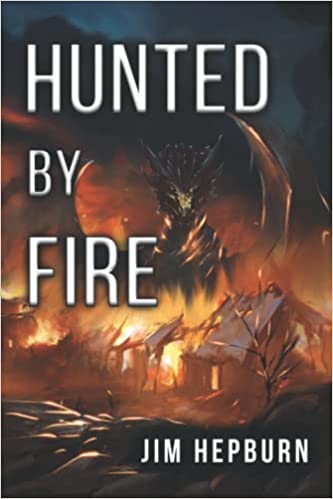 Hunted By Fire By Jim Hepburn
    Finding one's place is never easy.
What is fifteen-year-old Felix Deltorei supposed to do when he longs for rebellion? In his world, where the dragon Gods reign with barbaric force, such thoughts could cost him his life.
The risks have been drilled into Felix and his friends since they were children. The war between humans and the winged Gods ended with a treaty; humanity would serve them or be driven extinct. Hundreds of years later, under the watchful eyes of the Gods and their devoted followers, those same laws remain.
Felix knows he has to find his place in the world before he's found out. Surrounded by teachers who only ever value faith, obedience, but also technological advancement, Felix strives to achieve security and a better life in the only way he knows how; with his inventive mind. However, just as he gets his chance, one of the province's famed inquisitors arrives in town. Little does Felix know, the devastating events about to take place will risk exposing him, but they will also push him out into a journey that might mean the deaths of the ones he loves if he can't escape in time.
Hunted by Fire: Hepburn, Jim: 9798819737149: Books – Amazon.ca
Hunted by Fire (Fires of Innovation): Hepburn, Jim: 9798819737149: Amazon.com: Books
"A suspenseful and exhilaration story that left me on the edge of my seat. I couldn't put it down! Would highly recommend!" _ Marissa Venturo
"Loved the book- couldn't put it down! Awesome work" _ Sadie Soltys
ABOUT THE AUTHOR:
Like many young men in high school cursed with a dash of creativity, Jim found a love for writing, which everybody else thought was practically useless. Those folks urged him to get good at math and science instead, and so he worked at those, but he was never sure if he could hack them out at a university level. After he graduated said university with an arts degree (where he had to read an awful lot), he wondered what other young people had gone through the same thing. It's always been his dream to inspire young men and women to pursue STEM projects, as he thinks the world could use as many helping hands it can get and he thinks they are up to the challenge.
In other news, he grew up near Toronto, Canada and devoured any written adventure he could find, including many of the works written by Kenneth Oppel, D. J. MacHale, Christopher Paolini, and Rick Riordan. Later on, it was Jim Butcher, R.A. Salvatore, Hajime Isayama, and Tsugumi Ohba who fueled him through his early adult years and to whom he associates much of his personal growth to.