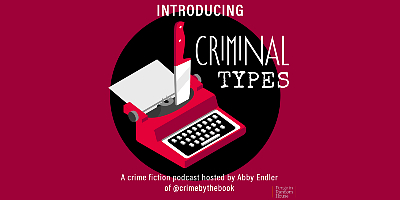 Introducing CRIMINAL TYPES, a Crime Fiction Podcast from Knopf Doubleday & Penguin Random House Media
Knopf Doubleday Publishing Group and Penguin Random House Media are proud to announce the launch of season 1 of a brand-new crime fiction podcast Criminal Types. The first episode of the podcast dropped May 9 with special guest John Grisham. Criminal Types is recorded in the PRH Podcast Studio and celebrates all the incredible talent at  Penguin Random House through deep-dive conversations with bestselling thriller writers and up-and-coming stars alike.
Over the past year Gabrielle Brooks, VP Executive Publicity Director, Knopf Doubleday Publishing Group & Special Projects and Abby Endler, Senior Publicist, Knopf Doubleday have been working with Pat Stango, Senior Director, Media Production & Development, PRH to produce Criminal Types. The podcast is hosted by Abby and creator of the largest crime fiction dedicated Instagram account: Crime by the Book.  Criminal Types was announced on Crime by the Book yesterday — take a look at this post to see some of the amazing early reactions already rolling in!
Criminal Types is a podcast for anyone obsessed with crime stories. From serial killers to legal thrillers, haunted houses to murder mysteries, Criminal Types digs into the real-world cases, research, and obsessions that keep our favorite crime writers up at night. Season 1 of Criminal Types will include 10 episodes covering everything from hands-on research at a body farm to the Dixie Mafia, growing up in a haunted house, and lots more.
A second episode of Criminal Types will drop tomorrow, Thursday, May 11!  After that, new episodes will air every Tuesday.
Full lineup of Season 1 guests:  John Grisham, Isabel Cañas, Lisa Gardner, CJ Tudor, Simone St. James, Amanda Jayatissa, Riley Sager, Clemence Michallon, Jo Nesbø.
Plus: a very special season finale episode featuring a conversation with our own Jennifer Barth, Senior Vice President, Executive Editor, Knopf.