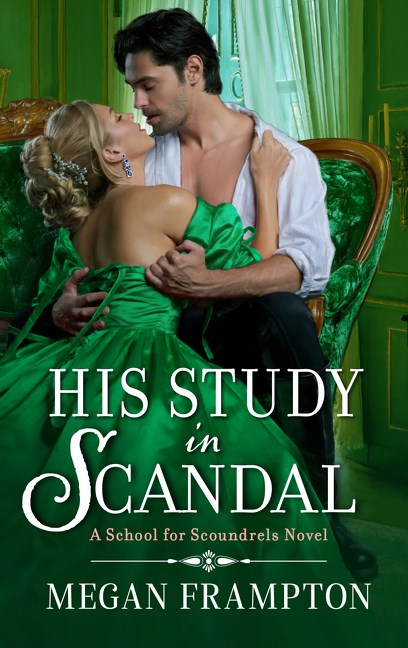 His Study in Scandal By Megan Frampton
Megan Frampton's deliciously witty A School for Scoundrels series follows the adventures of five gentlemen who navigate life—and love—in London. Here, a dashing young businessman enters into a liaison with a widowed Duchess. Perfect for fans of Sarah MacLean and anyone who loves Bridgerton!
Alexandra, Duchess of Chelmsworth, is tired of pretending to mourn a husband who squandered a fortune and never bothered to give her the time of day, much less any attentions at night. So, the still-beautiful duchess cuts up her mourning gowns, deciding to experience the pleasures long denied her by daringly visiting the Garden of Hedon. It is there the ton anonymously gives in to their deepest desires, and where Alexandra finds herself in the arms of a mysterious man. She willingly gives in to the passion he offers her, fully believing she would never see him again.
But she is shocked to soon discover he is none other than Theo Osborne, who is continually being pushed forward as a husband—for Alexandra's own stepdaughter! While his wealth would save the family from financial ruin, his intentions are clear: he has no interest in anyone but Alexandra. And though he tempts and teases her, she is determined not to give her heart to any man. But what started as a sensuous game turns into something much more…