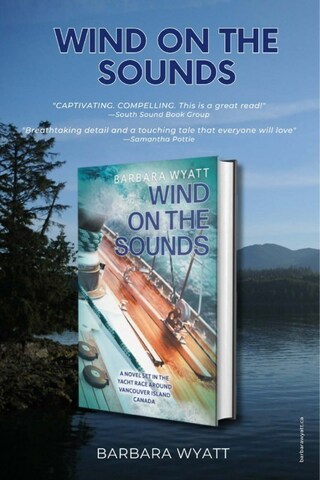 The novel, "Wind on the Sounds" by Canadian author, Barbara Wyatt, is set on the Van Isle 360, the two-week yacht race around Vancouver Island. The racing sailboats set off on June 3, 2023, from Nanaimo, BC.
"Wind on the Sounds: A Novel Set in the Yacht Race around Vancouver Island Canada" (FriesenPress 2023) is a contemporary fiction novel about a history professor who barely knew port from starboard ending up on the Van Isle 360. The experienced sailing crew grumbles about being forced to have an inexperienced sailor as a last-minute replacement yet there is no other option.
The history professor/novice sailor teaches the rowdy racing crew about key events from British Columbia's history. She introduces them to the original Cowichan sweaters made from fine dog hairs, D'Arcy's leper colony, Captain Cook at Nootka Island, Cormorant's residential school, Sylvia Stark on Salt Spring Island, Brother XII, and more.
The Van Isle 360 is a biennial 580 nautical mile yacht race that circumnavigates Vancouver Island BC. In the novel, the novice discovers a racing world with gale-force winds and rough seas as well as gentle sailing past the wondrous natural beauty of Vancouver Island.
Reviews
A sweet and sentimental tale of finding your inner strength when and where you least expect it, with a rousing nautical twist." —Kirkus Reviews
 "CAPTIVATING. COMPELLING. This is a great read!" —South Sound Book Group, Olympia, Washington
ABOUT THE AUTHOR:
"Wind on the Sounds" is based on her personal experience as a novice sailor in the 2015 Van Isle 360 race. Her articles have appeared in Boys' Life, Good Old Boat, World and I, New York Tennis Magazine, Northwest Travel, and more. Her fiction was selected for publication in Muddy Puddle Press anthologies featuring Pacific Northwest writers.