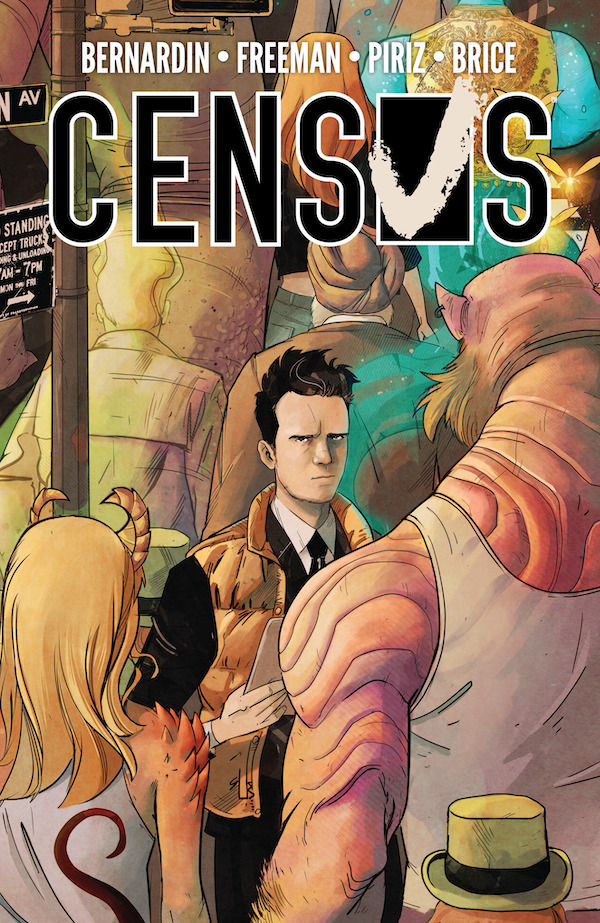 Dark Horse Books to Bring Census, a Supernatural Horror Comedy About Finding the Job of a Lifetime, Co-Written by Writer, Producer and Podcaster Marc Bernardin and Writer, Producer and Director Adam Freeman with art by Sebastián Piriz, to Print
The Collection Arrives January 2024
Dark Horse Comics will bring Census, a supernatural horror comedy, co-written by Eisner award-nominated writer, TV producer and podcaster Marc Bernardin (Star Trek: Picard, Batman: Caped Crusader, Carnival Row, Castle Rock, Masters of the Universe: Revelations, Alphas, Fatman Beyond, Adora and the Distance, Genius, The Highwaymen) and writer, TV producer and director Adam Freeman (Gene Simmons Family Jewels, The Chelsea Handler Show, X-Men Origins: Nightcrawler, The Authority, Genius, The Highwaymen) with art and colors by Sebastián Piriz, and lettering by Bernardo Brice— to print for the first time in January 2024.
To get the job of a lifetime, sometimes you have to sell your soul. In Census, Liam Malone is an aimless college graduate slacker living in New York City who answers a job listing for the Census Bureau that seems to require little of him. Knock on doors, ask a few questions, move on. But what he quickly discovers is that the doors of New York City are hiding lots of things. Dangerous things. Supernatural things. Liam's new gig requires him to register all of the demons, djinn, and other bizarre creatures living in New York. How will Liam keep both his life and a stellar performance review?
Census [152 pages / color / MSRP $22.99/$29.99 pbk / ISBN: 978-1-506737164 / on sale January 23, 2023 bookstores and January 24, 2023 comic shops / Dark Horse Books] is available for pre-order through Amazon, Barnes & Noble, and your local comic shop and bookstore. Census was first released as a 5-issue series from Comixology Originals and is available to read digitally at amazon.com/comixology.