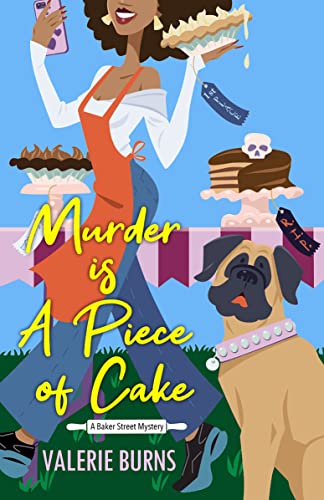 Valerie Burns
Perfect for readers craving the cozies of Joanne Fluke and Ellery Adams, the acclaimed Agatha award-nominated author returns to her charming small-town culinary cozy series featuring a social media expert turned bakery owner and sleuth.
"Snappy dialogue, a well-drawn supporting cast and an irresistible canine companion all add delicious flavor. Gulp this book down or savor it, but consuming it will guarantee a sustained sugar high." —
New York Times Book Review 
on
 Two Parts Sugar, One Part Murder
With small town New Bison's Spring Festival just around the corner, the pressure is on Maddy to continue her late great-aunt Octavia's legacy. That means scoring the top prize and transforming Baby Cakes into Southwest Michigan's must-visit bakery, even though her inexperience in the kitchen brings nightmares of humiliating tagged photos and scathing reviews.
There's another reason for lost beauty sleep. A second bakery is opening in town under the ownership of CJ Davenport, a shrewd investor with a reputation for sabotaging anyone who gets in his way. And savvy, flashy Maddy tops his list. It's a sticky spot to be in—more so when Davenport turns up dead with a Baby Cakes's knife stuck in his back.
Maddy's whole life just went from #thriving to barely surviving. Now, supported by the crafty Baker Street Irregulars and her new boyfriend, she must find the courage to face off against a killer who could very well get her name trending for the first and last time . . .
Praise for Two Parts Sugar, One Part Murder
"Snappy dialogue, a well-drawn supporting cast and an irresistible canine companion all add delicious flavor. Gulp this book down or savor it, but consuming it will guarantee a sustained sugar high." —New York Times Book Review