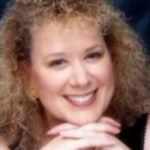 A fun, light-hearted chat with best selling author
Susan Mallery. www.susanmallery.com We talk about her 6lb poodle, heroes & humor and her new series Fools Gold, CA.
Susan Mallery is the New York Times bestselling author of over one hundred romances and women's fiction novels, and she has yet to run out of ideas! Her books have been named to the Top 10 Romance Novels lists of 2007, 2008, and 2009 by Booklist, a publication of the American Library Association, and she was the only author on the list all three years.
Listen to the whole show here!
RER6-6-10