Sheila and I were thrilled to interview authors Lisa Harris and Bo Caldwell on our show this week. At the opening of the show, Sheila said, "Over the last couple of weeks I've had several personal friends of mine leave the comfort of their homes to do missionary work in Haiti. I followed them on Facebook and in church news. I saw pictures and was so encouraged by everything that was happening. That has made this show even more exciting for me because in this show we will be talking about the stories of missionaries. We have two amazing guests with us tonight, authors Lisa Harris and Bo Caldwell, and they're going to share their stories, their books, and their feelings about missionary work."
Christian Reader's Radio 1-20-11
And I have to say, both Lisa and Bo did that beautifully. If you missed the show, please feel free to listen to it now. We have it archived on Reader's Entertainment Radio.
I'd like to tell you a little about Lisa Harris. She's an award-winning author who has over twenty novels and novella collections in print. She and her husband, Scott, along with their three children, live near the Indian Ocean in Mozambique as missionaries. Life is busy between ministry and home schooling, but she sees her writing as an extension of her ministry. When she's not working she loves hanging out with her family, cooking different ethnic dishes, and heading into the African bush on safari.
Lisa gave us some wonderful insights into missionary life in Africa. In fact, she answered some questions for our blog.
I asked Lisa what a typical day looked like for her and her family. Lisa said, "This question made me smile, because I've had to throw out words like "typical" from my vocabulary, as no day ever seems to go as planned. Even so, I do try to keep life as normal as possible for our three children."
I was also curious about how her life in Africa affected her novels? Lisa replied, "One of the things I love about traveling and living in different countries is that it widens my worldview and gives me a greater understanding into the lives of other people. And I love the chance to share what I have discovered—the people, culture, and setting—through a fictional story."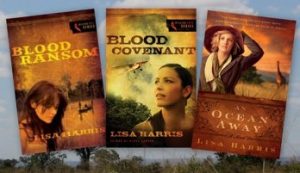 Lastly, I asked her about her latest books. Lisa said, "In February, Zondervan will release book two in my Mission Hope series. While the first book dealt with the very real issue of human trafficking, the second is another fast-paced suspense novel set in a refugee camp. And if you enjoy historicals with a strong thread of suspense and romance, I have a new book from Summerside Press, An Ocean Away, which will be released in March. This story is about a young girl caught between the two worlds of Africa and New York City in the early 1920's."
These novels sound amazing, Lisa! I hope everyone will pick up some copies!
For more information visit Lisa's website at www.lisaharriswrites.com or her blog at http://myblogintheheartofafrica.blogspot.com.
Also, here is a link to Lisa's non-profit organization at www.theECHOproject.org.
To learn more about Lisa's ministry please go to www.africanoutreachministries.org.
Sheila and I were also excited to have Bo Caldwell on the show. She is the author of the national bestseller The Distant Land of My Father. Her short fiction has been published in Ploughshares, Story, Epoch, and other literary journals. A former Stegner Fellow in Creative Writing at Stanford University, she lives in Northern California with her husband, novelist Ron Hansen. Since Bo has written about missionary life in China, she also gave us some fascinating answers to our questions.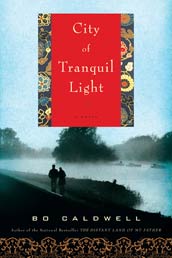 As a fellow author I want to give Bo some praise here. She truly has a unique voice and an amazing literary style—lyrical and heart-felt and memorable. On the day of the interview I was reading her novel, City of Tranquil Light, and I started to cry because the story was so moving to me, so beautiful. I hope our listeners get an opportunity to read this wonderful story, which was inspired by the lives of her beloved grandparents who were also missionaries in China.
Here's a link to learn more about Bo's latest book: us.macmillan.com/cityoftranquillight. Also, listeners can purchase the book online at amazon.com and bn.com.
Thanks Lisa and Bo for being our guests on the show!
Blessings to each of you!
Anita Higman
Bestselling author of 26 books
Love Finds You in Humble Texas
Join our new Christian show In Faith
from now on at www.infaithnetwork.com!