The Alchemist: A Graphic Novel by Paulo Coelho
Adapted by Derek Ruiz with Artwork by Daniel Sampere et al
A review by Ed English, host of "Behind the Mask"
I was given The Alchemist: A Graphic Novel to read, review, and presumably enjoy having no prior knowledge of Paulo Coelho or any exposure to his work.  As a long-time comicbook collector, I am, indeed, more apt to pick up and more likely to complete a book presented to me graphically.  At first glance, I wondered how long it would take me to read the 208 illustrated pages.  I was pleasantly surprised to have finished in less than two hours.
Overall, I enjoyed the read.  The artwork was simple when it needed to be and awe-inspiring at all the right moments.  The OCD in me was irritated by text positioning and some issues with grammar, but not so much that it kept me from enjoying the book and gleaning its message.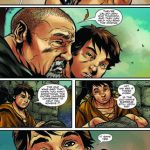 The Alchemist tells the story of Santiago, an Andalusian shepherd.  Santiago became a shepherd by choice, because he had always dreamed of traveling.  Shepherding was the only occupation known to afford him that luxury.  Shepherding also afforded him ample time to read and ample time to ponder life, love, and happiness.  Santiago's simplistic world view and thirst for adventure lead him to act on a recurring dream and begin a quest for treasure.  This sense of purpose and self-awareness is what the author calls a "personal legend".  Those who know what their personal legend is are few, and those who seek to fulfill it are fewer still.  Santiago begins his journey hoping to find the treasure that will allow him to live as he desires, love the woman of his heart, and be happy for the rest of his days.  Along the way, he meets many interesting individuals who help and guide him toward completing his quest.  With each new relationship, and each life experience, he deepens his understanding of himself, of the world around him, and of the relationship between the two.
After finishing the graphic novel and going to discover more about the original work, I read many reviews of The Alchemist.  It seems that what many people view as negative aspects of the story are what others find unique and refreshing about it.  While no one can truly say that the underlying message of this story is original, the manner in which it is told truly is.  The author pulls from many different world views, cultures, religions, and texts in laying out the path of understanding upon which Santiago travels.  From Greek fables, to the tenets of the Koran, to Biblical accounts of the miracles of Jesus, all signs point him in the same direction.
The journey begins with Santiago's understanding of "the world's greatest lie", that "at a certain point in our lives, we lose control of what's happening to us, and our lives become controlled by fate".  Santiago is also introduced to the world's one great truth, that no matter who you are or whatever you do, "when you really want something, it's because that desire originated in the soul of the universe".  Many of the story's characters repeat sayings such as "There is a force that wants you to realize your personal legend." and "When you want something, the universe conspires to help you achieve it." The ultimate lesson that I believe is being conveyed is that it doesn't matter what other people think about who you are or what you do.  A person's only true obligation is to realize their own destiny and fulfill their personal legend.  Personally, I think I would summarize the work with a lesson from one of its stories.  In order to truly have life, love, and happiness, one must learn to achieve a balance between focusing on what is immediately before you while fully realizing and enjoying all that surrounds you.
If you enjoy stories about self-discovery, you should discover The Alchemist: A Graphic Novel for yourself.