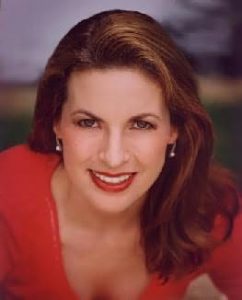 Lisa Kleypas, the beauty queen turned New York Times Bestselling author has been wooing fans from across the globe for years now. Today we find out a wee bit more about this magnetic author.
After graduating from Wellesley College with a political science degree, Lisa published her first novel at age twenty-one. Her books are published in fourteen languages and are bestsellers all over the world.
Lisa writes for St. Martins Press and is represented by her agent Mel Berger of the William Morris agency.
1985: Lisa was named Miss Massachusetts in the Miss America competition. Among the challenges she faced: wearing a banner with such a long state name, when she is only 5'2″. Because of the rule that contestants had to tuck the excess length of banner into their swimsuits, she became known as "Miss Massachu."
At the competition in Atlantic City, Lisa's talent was singing an original composition, which won her a "talented nonfinalist" award. And to her delight, she got to keep the big sparkly crown, which sits on her bookshelf and now attracts keen interest from her daughter.
1986 to 1998 was Lisa's starting a family period – getting married and receiving the award of having the most wonderful little boy in the world.
1998: Lisa's novel "Stranger In My Arms" was given the Waldenbooks Award for greatest sales growth.
1999: "Someone To Watch Over Me" was a Rita finalist at the Romance Writers of America convention.
RITA winner
2002: Lisa's novel "Suddenly You" was a Rita finalist and Lisa won the Rita award for her Christmas anthology novella featured in the Dorchester publication "Wish List."
Also in 2002: Lisa's novel "Lady Sophia's Lover" was given the award for Best Sensuous Historical Romance from Romantic Times magazine. "Lady Sophia's Lover" was given a starred review in Publishers Weekly, as was "When Strangers Marry."
2003: Lisa's novel "Worth Any Price" was awarded a starred review from Publishers Weekly. "Worth Any Price" and "Where's My Hero" were listed in the Amazon Editor's Top Ten Picks for Best Romance of 2003!
2004: "Worth Any Price" won the RITA award for best Short Historical!
Also in 2004, "Secrets of a Summer Night" (Nov 2004) received a starred review from Publisher's Weekly!
RITA winner2006: "It Happened One Autumn" (Oct 05) was a finalist in the Short Historical Category of the RITA Awards.
RITA winner2007: "The Devil in Winter" and "Scandal in Spring" were both finalists for RITA Awards, Best Short Historical in 2006! Lisa was a keynote speaker at the Romance Writers of America July conference. Hear her speech.
2008: "Sugar Daddy" was a finalist for the RITA Award "Best Novel With Strong Romantic Elements" while "Mine Till Midnight" was a New York Times Bestseller and a finalist in the "Best Historical Romance" category.
2009: "Smooth Talking Stranger" was a New York Times Bestseller. "Tempt Me At Twilight" was a New York Times Bestseller.
2010: "Smooth Talking Stranger was released in paperback. "Married By Morning" was #3 on New York Times Bestseller list.
Check out Lisa's fantastic Book Trailer for "Love in the Afternoon."
<div align="center"?