RT Booklovers Convention
by: Jennifer St. Giles
This year I started preparing for RT a week in advance but still found myself up at 4 AM getting ready for my 7 AM trip to Hartsfield-Jackson Airport.  Epic fail, but nonetheless I am determined that next time…ahem.  Back to my story.  My 10 AM flight to L.A. ran a few minutes late. We taxied out from the gate, then received the ominous message from the pilot that the engine wouldn't start.  That "half hour" delay to fix the problem lasted five hours and resulted in a plane change.
During this on again, off again, stand-in-line-here-then-there routine, I had the pleasure of talking to a few nameless people that made time fly.  I became buddies with another divorcee from L.A. who does jewelry and also spoke to a gentleman from South Carolina.  And I say gentleman simply because the word fit the man's persona so well.  I am always looking for people who embody my idea of certain characters and this man struck me as a throw back to pre-civil war southern with the genteel aura one might expect from the likes of General Robert E. Lee.  It wasn't anything the guy said or his mannerisms; he talked and grumbled just like everyone else.  It was just a sense about him that struck me as being an historical hero, so in my mind I started plotting a sequel to my Trevelyan Series that I left behind six years ago.  LOL.  Little did I know…
Many hours later than I was supposed to arrive in L.A. we finally land and I ran into my southern gent again at the baggage claim.  We spoke a few minutes more and he apologized for his grumbling earlier.  I laughed and gave him my newly self-printed (with my book covers) business card and cringed as I noticed the ink had run after hours of being in my pocket through airport hell.  He told me his name, and I shook his hand and went on to my friends from BetweenYourSheets.com, Dayna Linton and Annette Batista.  Just last night I remembered the incident and Googled this fine gentleman while procrastinating on my latest WIP.  Boy was I surprised, but then was perfectly right on, too.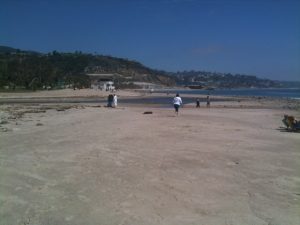 By the time we checked into the hotel, our first planed day to sight see in L.A. was a bust.  The next day we hit Malibu Beach, lunched at Kate Mantilini's in Beverly Hills, lost our eardrums in the Viper Room, and ate pizza at The Rainbow Bar and Grill next to the Roxy Theater.  We walked the steps of icons who are still big names and some who died tragically on the street, like River Phoenix.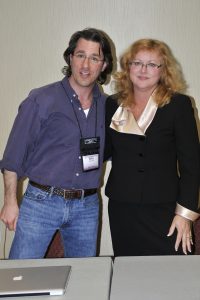 Wednesday: RT was off with a bang that lasted all week.  My Sex in the Gritty Workshop with Barry Eisler was as entertaining and invigorating as ever.  His iconic rendition of Victoria Dahl's The Wicked West and "on your knees, Lilly" had lingered in the minds of readers all year and they were back for more.  Thriller writer Andrew Peterson and the ATF brought out the big guns and I got my hands on a nice one. So everyone be sure to keep an eye out for the picture to surface on Facebook of me with some major kickass hardware.   The parties were hot, the panels top notch, from Screenwriter/Thriller writer Gregg Hurwitz to new self-pubbed icon H.P. Mallory.  Hundreds of top name authors from Romance, Thrillers, Mystery and every genre in between filled the ballroom for both the e-book and print book signings.  The Dabel brothers, heads of the Sea Lion Books, known for their incredible graphic novels,  found a hot audience.  Before I knew it, Sunday dawned and RT was over.  I wanted more, but was tired, too.
Sunday after we decided to do the L.A. tour,  passed the houses of major stars, saw where Brad Pitt worked for several years as a valet while trying to make a mark on Hollywood, passed the hotel where Janis Joplin drank her last and was fascinated with our  visit to the La Brea Tar Pits where the oldest historic entities walked, such as the Sabertooth Tiger and the Colombian Mammoth. Animals for tens of thousands of years have been trapped in the tar and now are preserved for science.  Last, but not least, we hit Grauman's Chinese Theater and put our feet in the imprinted steps of iconic greats like Cary Grant, Clint Eastwood, Fred Astaire, Roy Rogers, John Wayne, Elizabeth Taylor, Judy Garland and I could go on and on.
[flagallery gid=3 name="Grauman's Chinese Theater"]
Monday, I had no flight delays and hit Atlanta at 10 PM.  All I wanted to do was to get my bags and go home.  I had run myself right into a cold that I needed to fix fast because I was to start my new job the very next day.  Only I had one problem…one of my bags was missing!!  The bag with all of my shoes and party dresses wasn't anywhere at the airport, and believe you me, I had a number of people looking for it for almost two hours before I finally gave up in defeat and went home.  If you're a woman, then you know just how much fav dresses and shoes mean, and to think of them being lost forever, hit hard. LOL, yeah I was overtired.  Almost cried, but didn't.
But, I can't end the story there, right?
At 1 AM my phone rings.  A man from L.A. here in Georgia to work on a film, had mistakenly taken my bag.  Well to make a longer story short, I now have my bag and at some point in the future will get to visit the movie set to see it all in action.
And wait, the name of the Southern gentleman?  Julian Adams, who happened to produce, write, and star in a movie about his Great-Great Grandfather, Robert Adams titled The Last Confederate: The Story of Robert Adams.  Go check it out!
All in all my L.A. trip was a treasure trove of fun places and interesting people that are sure to pop up in my books in the near future.
I hope you have enjoyed my RT adventure and will take a chance on one of my adventurous stories, too.
Collateral Damage 12/10
Midnight Secrets 4/11
Darkest Dreams 8/11
Tactical Deception 11/11
Silken Shadows 2/12
Wild Irish 5/09
Smooth Irish 5/09
Other titles in print include:  The Mistress of Treveylan, His Dark Desires, Touch a Dark Wolf, Lure of the Wolf, Kiss of Darkness, and Bride of the Wolf. Go to jenniferstgiles.com for excerpts.
Go Forth, Dream, Believe, Create, Inspire, Love, and Heal,
Jennifer St. Giles, aka J.L.Saint, aka Jennifer Saints