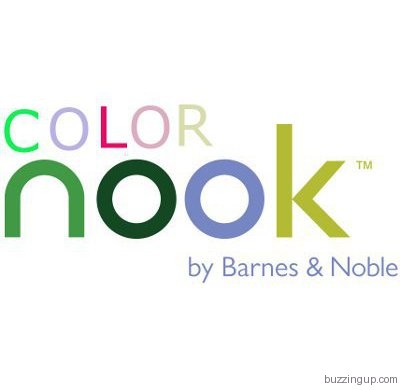 by Charina Russo
Angry Birds lovers rejoice!  The much anticipated Nookcolor system update was unveiled yesterday and boy it was a doozie!  NC users flocked to their devices to get the latest update and after that, they let the Angry Birds fly!  I laughed my ass off when I walked into B&N yesterday and passed the Nook counter and B&N staff were huddled around the NC waiting to take their turn to play Angry Birds! LOL!  I admit I was one of the anxious.  I'm Italian, we don't do patience well LOL!  Actually, we have none 🙂  I wasn't even aware of the update until my bestie Lisa dropped a comment on my Facebook wall: 'The nook color updates are out – let me know how they are…' and like a kid on Christmas morning, I was on it!  I immediately grabbed my NC and downloaded the update, side loaded it and after that, WOOHOO!  I was updated!  From the chatter on Nook message boards, it was all about the apps!  As the date of the update was pushed back, NC users were getting antsy!  I read NC owners were debating whether or not to 'root' their Nookcolor or hold out and wait for the update.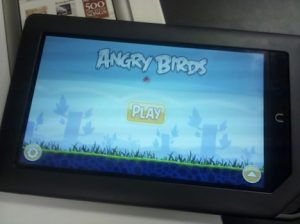 I think with this first significant update, users will be satisfied, at least for now.  When the update spreads and users have a chance to play around with it, then B&N will be bombarded with complaints and suggestions and demands for more features form this device.  Although the powers that be at B&N will tell you the NC is a eReader first, with this update, they unveiled what they always intended the NC to be, a tablet. While by no means is it an iPad, the new features are pretty cool.  And for the price, you can't go wrong.  Of the new features that were important to me as a NC user was the Apps store, email and the NC being Flash compatible.
According to the B&N website, beginning the week of April 25th and over the coming days, the software update will be automatically downloaded to registered devices that are connected to WiFi.  However, if you do not want to wait for the automatic update, you can manually download it from the website and follow the instructions provided.  There is also a handy dandy video with step-by-step instructions you can view on the NC.
The firmware update opens up exciting new features for users and also addresses customer issues as well.  What do you get with the update? Here's a list taken from the B&N website: http://www.barnesandnoble.com/u/nookcolor-support-software-update/379002520
The NOOK Color Ver1.2.0 update contains new features and enhancements, including:
· Access to shop a broad collection of popular NOOK Apps™ to enjoy great games, stay up to date on news and weather, and more
· Full-featured free email to check and send web-based email (i.e., Yahoo, Gmail, Hotmail, AOL) all from one in-box
· NOOK Color's update to Android OS 2.2/Froyo offers system improvements, browser performance and a more complete Web experience giving customers access to enjoy even more video, interactive and animated content. NOOK Color now includes support for Adobe® Flash® Player
· NOOK Kids™ exciting new Read and Play titles that bring animation, activities and stories together
· NOOK Books Enhanced offer in-page video and audio in a growing number of titles
· Enhancements to magazine navigation making it easier to enjoy even more of the growing selection of magazines in NOOK Newsstand
· NOOK Friends™ (beta) to see your friends' reading activities, swap books with LendMe™, share recommendations and discover new titles
I purchased the NC as an alternative to an iPad because frankly, I couldn't see myself dropping $1,000 for a high end iPad when I can buy a laptop or desktop for the same price.  I bought the Nook 3G/WiFi first and when the Nookcolor was released I had to have it.  What appealed to me was the touch screen and the web browser.  I cannot tell you how many times as I was reading a book, I got the sense I was missing something or tapped into that I was reading a book that was part of a series.  This would distract me because then I would wonder what the heck happened in the previous books; I would put the book down, go to the computer and look it up, see if I was right, and usually I was and be like 'damn!'  With the NC, I could just bookmark the page, open the web browser and look-up the information.  All done with a few taps, satisfy my curiosity and then could happily resume reading.
I can tell you as a Nook and Nookcolor user, the update is kick ass!  I like it, it suits and satisfies me and that's all that matters.  Along with web browsing, I got my mobile email so now I don't have to log into Optimum Online to check my email.  The email feature is decent and once you configure your email and connect to WiFi, mail collects into your inbox pretty fast and a email notification appears in the lower left hand side of the screen along with Nook notifications.  Email clients like Yahoo and Gmail, when you configure your email, it also imports your contacts.
Currently there are 140 apps in the Nook apps store.   There are a variety of apps, from games, to organizers, news apps, language apps, spiritual apps, apps for recipes and there's even an Oprah mobile app LOL!  I'm sure, as the update filters to users, and word that the B&N app store is now open, more apps will be added.  So app developers, start developing!  There is one glitch however with app downloading.  I stumbled on to it as I was playing around with the NC after the update.  With the update the notification feature has been enhanced.  NC users will see after the update, the notifications are more visible in the lower left hand side.  Along with email, any news related and Nook notifications, if you have an SD card installed, a mini SD icon also shows.  If you tap on the icon, it opens up the SD card and you can view what is stored on it.  I tapped on the SD icon and noticed other files saved to the card.  I showed it to someone at B&N and it appears some information from a downloaded app, saves to the SD card.  I don't know for sure if this is with all the apps, I just noticed this with PULSE and Angry Birds.  Therefore, for now until this issue is resolved I would recommend that you remove the SD card from the device before you download any app(s) and put it back after the download(s) complete.
I have some questions about the update like with the enhanced and added features, will it slow down the processor? B&N recommends to archive books to unclutter your library to avoid lags.  Will the new features and enhancements drain the battery?  I haven't had the update long enough to judge.  Only time will tell and I will be sure to keep a watchful eye.  In the coming days, I'm sure whatever issues users have with the NC, now that the system update is out, they will be very vocal about it.