Written by John Berten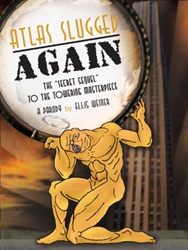 My difficulty in writing this blog should probably be communicated to the reader, for it conveys a sense of the book's true value.  I am challenged to write this blog because I cannot stop laughing about this book.
The book is Atlas Slugged Again, and Ellis Weiner's masterful parody is a worthy read for anyone who has ever read or heard of Ayn Rand.  This piece, obviously a parody of the 20th century classic Atlas Shrugged, will leave readers with a sense of how to feel about the true followers of Rand's original.  It will also leave you aching from laughter.
Naturally, the storyline takes as its foundation the basic framework of its inspiration, Rand's best-known novel.  In this society, John Glatt is "the smartest, bravest, most rational man in society" (and I am sure that you already see where this is going), and free-will and self-interest are at the core of all great achievements within the context of the Age of Production.  The writing highlights Rand's idiosyncratic writing techniques and flourishes quite well.  The author's greatest advantage is his keen awareness of how to utilize these tendencies of Rand to full effect.
Ellis Weiner is no stranger to the realm of parody and humor.  In fact, his professional career is marked by great achievements in this respect (and, according to the official website, he has written for "literally every other magazine that ever existed").  In his early years, he worked as an editor for National Lampoon.  He has written many praiseworthy books, including The Big Jewish Book for Jews: Everything You Need to Know to Be a Really Jewish Jew and How to Raise a Jewish Dog.
You might even recognize his name…
…Atlas Slugged Again is the well-crafted and hilariously antagonizing "secret sequel" to the towering masterpiece.  Both lovers and haters of Ayn Rand's fiction can learn to appreciate this fantastic book which delves into the depths of the human experience and problems of free will.  In addition, avid readers of general parody will appreciate Weiner's delightful approach to this infamous and mysterious classic of literature.  Finally, Atlas Slugged Again comes highly recommended for anyone who wishes to laugh for most of the remainder of this year.