By Sheila English
June 3, 2011
Cincinnati, Ohio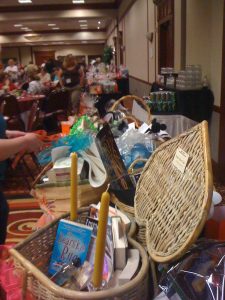 The annual Reader/Author Get Together is in its 6th year and 2011 brought in more attendees than ever, topping out at 400.  Located in West Chester, OH near Cincinnati the event got underway today and will run until Sunday morning.
Best selling authors, new authors and ebook-only authors meet and mingle with readers who have traveled from all over the US to come to the event and meet them.
The event is cozy and feels personal and for the low price of $50 you wonder how the venue, which is at the Marriott in West Chester, can be so classy and the food so abundant. The event is left low-cost to encourage participation and bring in people who might not otherwise be able to afford a convention of this size.
Running the event are authors Lori Foster, Dianne Castell and Linda Keller. The women have used the event as a platform to help raise awareness, interest and dollars for local charities that help soldiers, animals and children.
Authors and industry professionals donate gift baskets, services and books for a raffle with all proceeds going to charity. Several of the authors donate stories that are then put into an anthology and a large portion of the money that comes in from the book is also donated to charity. This year the book is entitled The Promise of Love and features such authors as Lori Foster, Erin McCarthy, Sylvia Day, Jamie Denton, Kate Douglas, and Kathy Love.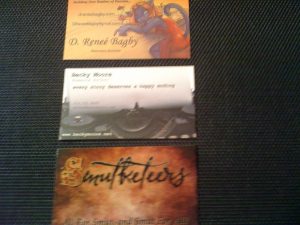 As part of our own annual review of this event we take time out to look at the wonderful gifts, giveaways and marketing material that we receive as part of registration.  This year we thought it might be fun to video the material we thought most note-worthy and even name some of our top picks.  We review the registration tote bag provided by Samhain Publishing, the lanyards provided by Carina Press, candy, pens, business cards, postcards and other fun items. You can watch the video for a quick peek at what we found to be quality items on note.
The raffle, which is the highlight event, will happen tomorrow.  So will editor and agent appointments, workshops, parties and games. AuthorIsland.com will sponsor the evening event which is a fun party that allows readers and authors to get to know each other better.
This is a favorite event, not only because of the intimate atmosphere but because it serves such great causes.
(Congratulations for your great card designs Dr Renee Bagby, Becky Moore, and Smutketeers)