Jennifer Lynn Barnes (who mostly goes by Jen) was born in Tulsa, Oklahoma. She has been, in turn, a competitive cheerleader, a volleyball player, a dancer, a debutante, a primate cognition researcher, a teen model, a comic book geek, and a lemur aficionado. She's been writing for as long as she can remember, finished her first full book (which she now refers to as a "practice book" and which none of you will ever see) when she was still in high school, and then wrote Golden the summer after her freshman year in college, when she was nineteen.
Jen graduated high school in 2002, and from Yale University with a degree in cognitive science (the study of the brain and thought) in May of 2006. She'll be spending the 2006-2007 school year abroad, doing autism research at the University of Cambridge in the United Kingdom. You can find Jennifer at www.jenniferlynnbarnes.com.
Jennifer's sizzling hot werewolf series, Raised by Wolves, has introduced the readers to a new world where humans and werewolves live together in a vibrant world painted by Jennifer's gifted imagination.
Raised by Wolves
Adopted by the Alpha of a werewolf pack after a rogue wolf brutally killed her parents right before her eyes, fifteen-year-old Bryn knows only pack life, and the rigid social hierarchy that controls it. That doesn't mean that she's averse to breaking a rule or two.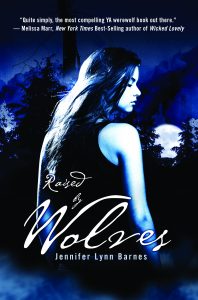 But when her curiosity gets the better of her and she discovers Chase, a new teen locked in a cage in her guardian's basement, and witnesses him turn into a wolf before her eyes, the horrific memories of her parents' murders return. Bryn becomes obsessed with getting her questions answered, and Chase is the only one who can provide the information she needs.
But in her drive to find the truth, will Bryn push too far beyond the constraints of the pack, forcing her to leave behind her friends, her family, and the identity that she's shaped?
Trial by Fire
There can only be one alpha.
Bryn is finally settling into her position as alpha of the Cedar Ridge Pack—or at least, her own version of what it means to be alpha when you're a human leading a band of werewolves. Then she finds a teenage boy bleeding on her front porch. Before collapsing, he tells her his name is Lucas, he's a Were, and Bryn's protection is his only hope.
But Lucas isn't part of Bryn's pack, and she has no right to claim another alpha's Were. With threats—old and new—looming, and danger closing in from all sides, Bryn will have to accept what her guardian Callum knew all along. To be alpha, she will have to give in to her own animal instincts and become less human. And, she's going to have to do it alone.
Bryn faces both the costs, and the rewards, of love and loyalty, in this thrilling sequel to Raised by Wolves.