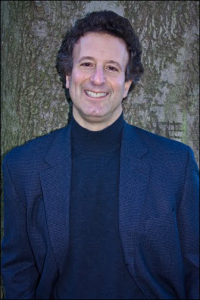 Recently hailed as "the greatest thriller writer alive today" by Bookviews and called "a creative genius" by Romantic Times, Jon Land is the author of 29 books, seventeen of which have been national bestsellers, Jon is published in over fifty countries and six different languages, including German and Japanese. There are currently almost 7 million copies of his books in print. RT Reviews Magazine recently honored him with a special achievement award for being a Pioneer in Genre Fiction.
Jon's latest series features female Texas Ranger Caitlin Strong who debuted in STRONG ENOUGH TO DIE (May '09, Forge Books) The Associated Press wrote "The book is a page-turner, the pace blistering, the characters well-drawn and the action hot. Caitlin Strong is a female version of John McClane from Die Hard." STRONG ENOUGH TO DIE has been optioned as a film property by Hand Picked Films with Carl Franklin (Devil in a Blue Dress, Out of Time, One False Move) attached to direct. The book was named a Best Mystery and Suspense Novel by RT Reviews for 2009 and a Reviewer's Pick by Bookreporter, and was a national bestseller in mass market.
That was followed by STRONG JUSTICE (June '10, Forge) which Publisher's Weekly lauded with a starred review calling it, "Intense and skillfully plotted." The San Jose Mercury News added that, "I've always wondered why there isn't an estrogen driven, sometimes skirt wearing female competitor to James Bond, Jack Reacher, Mike Hammer, Spenser… Well ladies and gentlemen, now there is and her name is Caitlin Strong." STRONG JUSTICE was named a Top Thriller of the Year by Library Journal. The third Caitlin Strong novel, STRONG AT THE BREAK, will be published by Forge in June 21, 2011.
Meanwhile, THE SEVEN SINS, published in June of '08 and called "Gripping," by the Chicago Sun-Times and "Breathless," by Newsday.) has been optioned for film by Moritz Borman (Terminator: Salvation) and a director is expected to be named shortly.
2011 will also see the publication of Jon's first ever nonfiction thriller. Currently titled BETRAYAL (Sterling, February '11), the book tells the story of Robert Fitzpatrick, an esteemed FBI chief sent to Boston during the height of Whitey Bulger's rein to bring him down, only to found Bulger was being protected from the top of the Bureau down, forestalling his efforts.
Jon Land has also turned his talents to screenwriting in recent years. His first film, a teen caper-comedy called DIRTY DEEDS, was released theatrically in the summer of 2005 and in DVD in January of 2006. His other current film projects include CHALK (Handpicked Films and Troika Films), STRANDED (Milk & Media Productions) and LUCKY DOG (Gravity Entertainment).
Jon graduated Brown University in 1979 Phi Beta Kappa and Magna cum Laude. He continues his association with Brown as alumni advisor to the Greek System, vice-president of the Brown Football Association and president of the Brown Faculty Club. He bases his novels and scripts on extensive travel and research, as well as a twenty-year career in the martial arts. He is an associate member of the Unites States Special Forces, has volunteered frequently in schools to help young people learn to enjoy the process of writing and serves as Vice-President of Marketing for the International Thriller Writers and lives in Providence, Rhode Island.
About Strong at the Break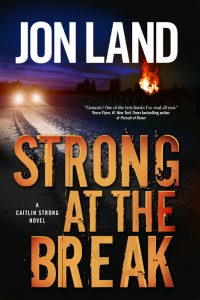 Fifth generation Texas Ranger Caitlin Strong returns in her most personal and desperate adventure yet, an adventure that has its roots in a gunfight years before in which her father shot down the cult-like leader of a separatist church.
Two decades later that man's son, Malcolm Arno, has become head of a militia movement bent on unleashing chaos and anarchy across the country. With all the guns and money he needs to unleash a second Civil War, nothing seems to be standing in Arno's way. Until his actions run him afoul of Caitlin Strong.
Already mired in one investigation of drug smuggling over the U.S.-Canadian border and another involving an Iraqi war veteran who claims the army is trying to kill him, Caitlin finds herself embroiled in the search for the kidnapped son of her sometime lover, former outlaw Cort Wesley Masters. When the missing boy's trail leads straight to Malcolm Arno's fortified Texas compound, the three disparate trails Caitlin has been following converge in an explosion of violence that will put her teachings to the ultimate test.
From the frozen rivers at the border with Canada to the desert wastelands of Mexico, the stage has been set for a battle like none neither Caitlin nor Cort Wesley has ever faced before where the stakes are nothing less than the survival of America as we know it.