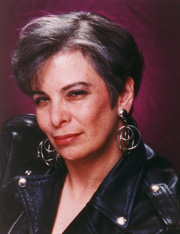 She's the author whose books defined erotic historical romance.  Romantic Times calls her "The Queen of Erotic Romance," Affaire de Coeur: "… the divine mistress of sensual writing …"
She's Thea Devine (yes, it's her real name), and she's the author of 18 steamy historical romances (with three more to come), as well as contributing novellas to Kensington Books' USAToday best-selling erotic historical romance anthologies, CAPTIVATED, FASCINATED, and TAKEN BY SURPRISE.  She's also written a handful of sexy contemporary romantic novellas for Kensington and Leisure Books, and she made her debut in full-length contemporary romance in 1999 with NIGHT MOVES, for Harlequin Temptation "Blaze".
She lives and works in Connecticut (and summers in Maine), but more to the point, she really lives that secret life readers sometimes think she does: for the past twenty years, she's also been a professional manuscript reader.
She's been married 36 years to John, a school administrator, and has two grown sons, Michael and Thomas; and two sister felines, Charlotte and Emily Bronte Cat; and two dogs: mini-doxie Midgie, who recently joined the family; and the headstrong, stubborn and wilful black lab, Maggie, who has, Thea says, all the qualities of a good heroine.
About The Darkest Heart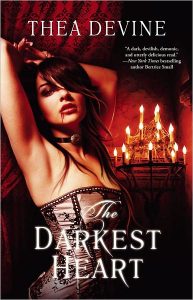 Ever since a terrible fire killed her older son, one ambition has ruled Countess Lazlaric. Desperate to continue the family legacy, she is determined that her rakehell second son wed and produce an heir. Now, she's found the perfect bride. A distant relative, writing to beg for help, is ideal for her secret plans.Alone in the world, beautiful raven-haired Senna Landseth finds more than just Drom Manor's isolation sending a shiver down her spine. Countess Lazlaric seems overly eager to welcome her, strange noises fill the cavernous corridors of the gloomy manor, and she senses she is being spied upon. Then a note mysteriously appears, inscribed with chilling words: "I'm watching you. Nicolai."In the years since the fire that supposedly destroyed him, Nicolai Lazlaric has inhabited the world of a vampire, consumed with seeking revenge on the creature who turned him. Now, it is time to return to Drom Manor. But Nicolai has no idea how badly the Countess wants an heir—or that his hated brother's prospective bride is residing there. Senna's unexpected presence upends Nicolai's plans, for he can think only of possessing the beautiful innocent, of taking her in a blood-binding seduction from which she will never escape. . . .