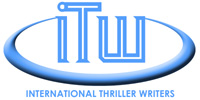 By: Sheila English
7/15/11 New York, NY
New York City is the home of publishing, bright lights and celebrities and you could find it all at the Grand Hyatt last week during the annual ThrillerFest event.   The event is put on by the International Thriller Writer's Organization and boasts some of the top selling thriller writers in the US and beyond.
The event is broken down into three components; CraftFest which offers numerous craft-based workshops; AgentFest which offers a speed-dating-like experience with over 50 agents looking to find the next big thriller novel and dozens of hopeful authors pitching their books to them; and the final big thrill is ThrillerFest which is a networking and educational event that includes workshops, lectures, live author interviews, luncheons, parties and an opportunity to meet and talk with some of your favorite authors in person.
This year the lineup included R. L. Stine, Ken Follett, Robert Crais, Karin Slaughter, Douglas Preston, Diana Gabaldon and many others.  The event held an awards ceremony giving out several awards.
Winners:
R. L. Stine, ThrillerMaster
in recognition of his legendary career and outstanding contributions to the thriller genre
Joe McGinniss, True Thriller Award
Karin Slaughter, Silver Bullet Award
Best Hard Cover Novel:
John Sanford – BAD BLOOD (Putnam)
Best Paperback Original:
J.T. Ellison – THE COLD ROOM (Mira)

Best First Novel:
Chevy Stevens – STILL MISSING (St. Martin's)
Best Short Story:
Richard Helms – "The Gods for Vengeance Cry" (Dell Magazine