Reader's Entertainment Radio Interviews the #1 loan officer in the US
Dan Milstein may be the # loan officer in the US, but he got his start in the USSR. From poverty to prosperity he started working at McDonald's and found the power of hard work and passion as he moved on to work at a bank and the rest, as they say, is history.
Not everyone can be ranked #1 Loan Officer in the country for two consecutive years and during those years have his company experience a 712% growth volume. And this is only the beginning. In fact, Gold Star Mortgage Financial Group has been ranked as one of the top 500 fasting growing companies in America by Inc. Magazine for the past three years.
Milstein talks candidly to RER about that journey and gives insight to others who are looking to live the American dream, regardless of where they come from. His entrepreneurial spirit shines through in the interview and in his new book The ABC of Sales.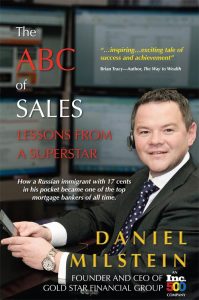 Listen to the podcast and get some great tips and a good feeling!