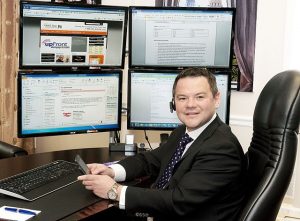 ANN ARBOR, MICHIGAN – Daniel Milstein, CEO of Gold Star Mortgage Financial Group shares the secrets to his success in the newly-released book, The ABC of Sales.
Aspiring sales superstars will find several valuable reasons to read and study Milstein's power-packed book:
The author is ranked as the Number One loan officer in the nation for 2009 & 2010
Dan Milstein is listed in the top 40 mortgage professionals in the nation
GoldStar has been one of the Inc. 500 fastest growing companies in the U.S. for two consecutive years.
It's for these reasons that when Daniel Milstein has something to say, top salespeople across the nation take interest.  Milstein published The ABC of Sales (ISBN 978-0-9835527-0-3), Gold Star Publishing, 2011, $19.95, 196 pages, http://www.ABCofSales.com as a guide for anyone who wants to soar to the top in sales, revive their sales careers, or position their companies among the elite.
Brian Tracy, one of the most renowned sales trainers ever says, "This inspiring book not only tells an exciting tale of success and achievement, it also gives you the tools and strategies you need to achieve all your goals."
Former FOX News Producer Jess Todtfeld says "With this book, Dan Milstein will join Zig Ziglar, John Maxwell, Og Mandino, and Brian Tracy in the pantheon of salesmen we should all learn from."
Born in Kiev, Ukraine, Daniel and his family relocated to the United States after the Chernobyl nuclear disaster. He received his education with honors in business management and finance and graduated with a BBA from Cleary University, Ann Arbor.
Milstein worked his way up from assistant consumer lending manager, to general manager, to underwriter, to Chief Operating Officer and finally Chief Executive Officer within the various financial institutions.
But what truly motivates Milstein to continue pursuing business success is his sense of loyalty to his more than 400 employees and their family members who depend on Gold Star's stability. That motivation has resulted in Gold Star being named by the Detroit Free Press as one of the Top Work Places in Michigan for employees from 2009-2010.
Gold Star has grown to 26 offices, with four new ones to open in 2011, and is licensed to originate mortgages in more than 20 states. Since 2005, revenues have increased 712 percent and Gold Star Mortgage Financial Group is currently closing more than a billion dollars in loans annually.
Among the gems in The ABC of Sales is Milstein's adage that "Lunch is for Losers," that if you "don't believe in oranges then sell apples" and that the Great Commandment of Sales is "Always Be Closing."
"ABC– Always Be Closing —is one of my favorite phrases," says Milstein. "It is a motto I live by and is one of the prime reasons I have been successful as a sales
professional. I never turn off my selling mindset; I'm always ready to engage a friend, colleague, or stranger in conversations that will lead to a sale."
In the book Milstein shares eight secrets for consistently reaching high sales levels and lays out in clearly understandable language what it takes to be a Sales Superstar. The author also reveals what he has done to maintain his place among the Top 10 mortgage professionals in the U.S. for the past 10 years.
Milstein's expertise makes it possible for Gold Star to offer lower rates for mortgages from major banks than if the customer dealt directly with that bank.  While that is a major competitive advantage, Gold Star also excels year after year by putting customers first in all transactions and always being available when clients or potential customers call.
About Daniel Milstein
Daniel Milstein, author of The ABC of Sales, is CEO of Gold Star Mortgage Financial Group, 3879 Packard Road, Ann Arbor, MI 48108. Milstein has been recognized as the #1 mortgage originator in the nation, has been among the top 40 finance professionals in America for 10 years, and has been named the top employer in Michigan for two years by the Detroit Free Press. Milstein serves on the Cleary College Board of Trustees and is a board member of several corporations, and his articles appear in several publications. He has achieved more than $3 billion in personal career mortgage sales, is a licensed mortgage lender in 20 states, and has 15 years in the banking industry as an executive, originator, underwriter, productions and operations manager with the highest track record in the industry. For more information about Daniel Milstein or Gold Star Mortgage Financial Group visit www.GoldStarFinancial.com.
-END-
Media Contact: For a review copy of The ABC of Sales or to arrange an interview with Daniel Milstein contact Scott Lorenz of Westwind Communications at scottlorenz@westwindcos.com or by phone at 734-667-2090 or by cell at: 248-705-2214.