Women's Issues and other Beautiful Tales
Robyn Carr is as charming as the people and places she writes about. Learn about her journey as a writer and delve deeper into the fictional, rugged-beauty that is Virgin River.
Robyn has written for thirty years, but her Virgin River series which highlights modern women's issues has taken her to the bestseller's list.
Find out more about the beautiful Northern California fiction town of Virgin River and find out more about this extremely talented author.
Author bio from the author website: After more than 20 years penning screenplays, historical romances and even a psychological thriller, New York Times bestselling author Robyn Carr found her genre — some would say her calling — writing a particular kind of women's fiction.
"I was always meant to write about women," Robyn says, "women who were tougher than the women of their time, smarter and more courageous … characters who would never trade places with anyone."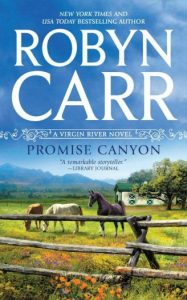 That's the impetus behind her Virgin River series for MIRA Books. Set in a small town (pop. 600) of retired marines and the independent women they love and against a backdrop of northern California redwoods, the Virgin River books are inspiration for those who, like Robyn, believe in the power of healthy, positive relationships.