L. McMaken
8-11-11
Cincinnati, OH
Company Seeks to Teach Children to Make Healthy Choices
 
Human Body Detectives, a leader in children's health and nutrition, announces the Human Body Detectives Kids' Book series that teaches children how to make healthy choices about their bodies. Each book in the series is entertaining, educational and geared for 6 to 10 year olds. All books in the series feature mysteries that teach health and nutrition. The books were released in July 2011 and cost $12.95 per book.
According to Dr. Alan Greene, founder of FAAP, "Something powerful happens when kids start to understand and appreciate their own bodies. By inviting children to be Human Body Detectives, naturopathic doctor Heather Manley treats them with respect, engaging their curiosity and problem solving skills to consider how their own bodies work — and why. This first case goes right to the core: what we eat is central to great health. This imaginary journey through the process of digestion — from food to poop, with some farts in between — will help kids discover the beauty of eating a rainbow of great food."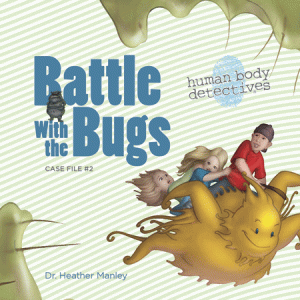 The books support parents and teachers by enhancing the existing health curricula. They empower children to increase mind, body and nutrition consciousness. Company founder Dr. Heather Manley is a mother and naturopathic physician whose primary focus is on helping children learn to make the best choices for their bodies. She has a passion for helping families develop a love of healthy eating.

About Human Body Detectives
Human Body Detectives is the leader in children's health and nutrition education. The company has received excellent reviews in both the news and media. Founded in 2008, the company's main goal is to help children become proactive in the choices that they make in health and nutrition. The company's services are available online at www.humanbodydetectives.com and www.drheathernd.com.
Human Body Detectives books are available at: HBD Shop or Amazon
 For more information:
Heather Manley, Owner and Founder Human Body Detectives
PO Box 437366, Kamuela, Hawaii 96743, 808-640-1159, drheather@drheathernd.com