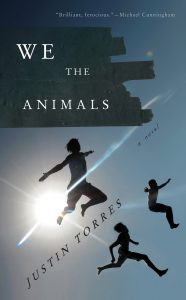 I watch the interview with Justin Torres on Youtube- http://youtu.be/eY2hfaWaLUM and I compare that to the book and you wonder if some of this is right from the author's life. But, this is a work of fiction even though it feels real when you read about the three brothers, how they grow up in a semi-dysfunctional family.
There's love in the family. But everything seems magnified. Passion, anger, love, everything. The boys deal with a father who is abusive to their mother. A mother who, when the dad leaves them for a time, works a night shift and is barely there for the three hooligans.
The story is a sort of coming of age story. It's thought provoking. It's eye-opening. It's heartfelt. I think people who wonder about such a lifestyle will have an opportunity to feel, really feel, what that's like. And to those who totally understand, perhaps a bit too well, what this kind of life is like, you can take heart in the beauty of some of the moments. And in the fact that even dysfunctional families can love each other through the chaos.
I don't know if the author has a website, but I did find this- http://www.houghtonmifflinbooks.com/catalog/titledetail.cfm?titleNumber=1458438