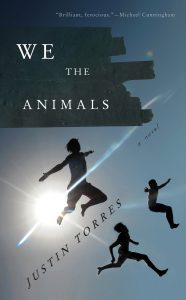 FOR IMMEDIATE RELEASE
CONTACT: Taryn Roeder
Houghton Mifflin Harcourt
222 Berkeley Street, Boston. MA 02116
617.351.3818 (phone), Taryn.roeder@hmhpub.com
"A novel so honest, poetic, and tough that it makes you reexamine what it means to love and to hurt . . . In stark prose, Torres shows us how one family grapples with a dangerous and chaotic love for each other, as well as what it means to become a man." — O, the Oprah Magazine
"An exquisitely crafted debut novel — subtle, shimmering and emotionally devastating . . . The narrative voice is a marvel of control . . . Upon finishing, readers might be tempted to start again, not wanting
to let it go." — Kirkus Reviews, STARRED review
"In punchy, energized language, the narrator of this dark and affecting little book relates life with his two brothers and their too young, just-making-it parents….When real anguish bursts forth at the end, you almost think it comes undeserved – and then you applaud first novelist Torres's genius ability to twist around and punch you in the gut. Highly recommended." — Library Journal

September 2011 Indie Next List
Barnes & Noble Discover Great New Writers, Fall
WE THE ANIMALS
a novel
Justin Torres
WE THE ANIMALS (Houghton Mifflin Harcourt, September 1, 2011) is an exquisite, blistering debut novel from a thrilling new voice in American fiction. Out of the fierce love that connects a white mother, a Puerto Rican father, and three inseparable brothers, Justin Torres gives us a portrait of the joys and heartbreaks of a family. From the intense familial unity felt by the book's narrator to the profound alienation he endures as he begins to see the world, Torres reinvents the coming-of-age story in a way that is sly and powerful.
The characters in this semiautobiographical book are based on Torres's parents and brothers. Like the boys in his book, Torres was raised in upstate New York. His father and mother met in a Brooklyn grammar school, and they were the parents of three boys before they turned nineteen. As he so eloquently explains in an interview on The New Yorker's website, "Everything I write has autobiographical elements . . . A lot of writers, even writers I respect and admire, look down at this, or at least my admitting it. They ask, why write fiction if you want to write about yourself? But something magical happens as you filter personal experience through imagination and language: the composites become characters, and the scraps of lived experience morph, and what you end up with is wholly transformed."
Torres's own journey took him from a difficult childhood to a forced stay at a state-run institution to a series of stabs at jobs and college. Bookselling and a love of writing led him to the Iowa Writers' Workshop and his current position as a Wallace Stegner fellow at Stanford. His story "Reverting to a Wild State" appeared in The New Yorker in August 2011, and he has a story slated to appear in the October 2011 issue of Harper's Magazine.
WE THE ANIMALS takes life and makes it more poetic and more true, dropping readers into the magic and danger of family, and reminding us of that terrible moment when we must reconcile who we are with who we want to be for our loved ones. Justin Torres is a natural writer coming into his own, and WE THE ANIMALS proves him to be a literary force to be reckoned with.