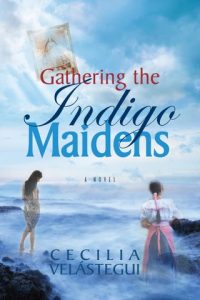 "WE ARE ALL SLIGHTLY DELUSIONAL UNDER THE SOUTHERN CALIFORNIA SUN."
An innocent maiden imprisoned as a sex slave…
A country's art treasures stolen…
A search for three historical indigo maidens…
Gathering the Indigo Maidens by Cecilia Velastegui
California art collector and philanthropist Paloma Zubiondo's perfect world shatters when she receives a mysterious call from a girl claiming to be held captive as a sex-slave, begging for the return of a stolen seventeenth-century Spanish Colonial painting of the Immaculate Conception.  According to the caller, her freedom depends on the painting's return,
declaring that it rightfully belongs to her, the descendant of its painter, Isabel Santiago.  Although she suspects a con, Paloma faces the vile underworld of sex trafficking and art theft.
Within days, everything Paloma thinks she knows will be called into question:  Is it possible to save the world one person at a time?  Can a culture be revived one painting at a time? What is the legacy of a nameless painter? And can a forgotten language be brought back to mind by a word, by a threat, by a desperate cry for help?
Paloma reluctantly comes out of her beach side fortress to confront the mysteries from her past as well as the crimes of the present.  She enlists the help of her childhood friend, Jen, a psychologist and social activist in Los Angeles.  Together they look for any connection between Paloma's paintings, Isabel Santiago, and the proliferation of human trafficking of young Latinas.  If Paloma and Jen can uncover the story of the painting, maybe they can find the captive woman. Following the symbols within the religious paintings created by indigenous Andean artists during the Spanish Colonial period reveals the magnitude of present-day art theft from Latin America.  They scour history, taking the reader from the tragedy that befalls the indigo gathering maiden in colonial Quito 1699; to the failure of the century-old, women-owned publishing dynasty of María de Rivera Calderón y Benavides in Mexico City 1754; and to the indigo ink protest sign that sentenced Modesta Ávila of San Juan Capistrano 1889, to San Quentin State Prison.
Richly imagined, exceptionally written, and meticulously researched, Gathering the Indigo Maidens takes the reader on an exhilarating journey through time, languages, and cultures that ultimately leads to a place of wholeness and hope.