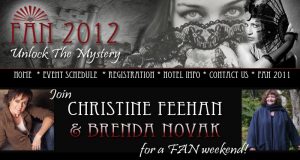 L. McMaken
10-14-11
Cincinnati, OH
All fans of author Christine Feehan and Brenda Novak are invited to the 3rd Annual FAN (Feehan and Novak) Convention from March 2 – 4, 2012 in Sacramento, California.
The FAN Convention for 2012 will be a sensation overload, beginning with the venue, the Delta King. A vintage 1920's riverboat now moored on the Sacramento River. What better place to bring together fans and authors.
Events that are scheduled for the 2012 convention include book readings from both authors, book signings, and intimate talks about writing and life. Plus, there will be a gorgeous masquerade ball, fabulous music and since it's a riverboat – Texas Hold'em and Blackjack.
For those who want some intrigue and a little window into the future there will be a palm reader, Fairy Card reader, and Dragon Card reader. After all that you'll want to know "who dun it?" at the Murder Mystery Dinner.
Plus, this year Ms. Feehan is holding a special kaleidoscope making class, another one of her multiple talents. This class is limited in size, so you'll want to register early.
Christine Feehan has published over 40 novels, most with steamy dark characters journeying into a even darker, paranormal worlds.
Brenda Novak has penned over 33 novels since her first book was published in 1999. From hot romance to heart-stopping suspense, her books will take you there.
A fun, magical weekend is in store.