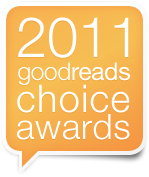 L.McMaken
11-8-11
Cincinnati, OH
If Election Day has you frustrated with the candidate choices, jump over to Goodreads. (After you vote!) They have so many great choices, you won't know who to vote for in their Goodreads Choice Awards.
There are 22 categories with 15 nominees. Cast your vote in your favorite genres until November 13th. The top votes will then be announced for the second round of voting. The winners will be announced in December.
Vote for your favorites!