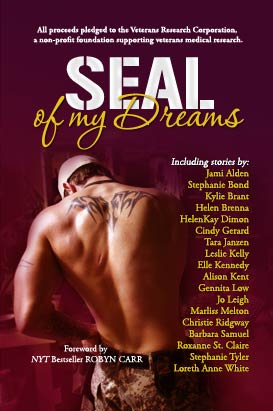 Bell Bridge Books
Memphis, TN
Contact Deborah Smith, editor
deborahsmith@bellebooks.com
Press Release
October 2011
Fall In Love With These True Heroes AND Support Better Medical Care For Veterans
Eighteen top authors celebrate the men of the Navy SEALs and the women who love them. Don't miss these stories of courage, loyalty, romance
and honor.
Paperback and Ebook
Available starting Veterans Day, Nov. 11, everywhere books  are sold.
All proceeds pledged to the Veterans Research Corporation, a nonprofit foundation supporting veterans' medical research.
http://www.veteransresearchcorp.org
http://sealofmydreams.com
Authors include: Cindy Gerard, Alison Kent, Stephanie Tyler, Stephanie Bond, Christie Ridgway, Tara Janzen, Barbara Samuel, Jami Alden, Elle Kennedy, Leslie Kelly, and Loreth Anne White, with a Foreword by Robyn Carr.  Among them they have won numerous RWA RITA awards, have published nearly 600 novels, and have sold 15 million copies worldwide.