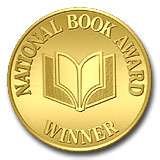 L. McMaken
12-3-11
Cincinnati, OH
The National Book Awards just announced the winners for 2011. They received 1,223 books for review for the prestigious award, Fiction – 315 books submitted, Nonfiction – 441, Poetry – 189, YPL- 278. The winners are:
Fiction:
Jesmyn Ward, Salvage the Bones
(Bloomsbury USA)
Non-Fiction:
Stephen Greenblatt, The Swerve: How the World Became Modern
(W. W. Norton & Company)
Poetry:
Nikky Finney, Head Off & Split
(TriQuarterly, an imprint of Northwestern University Press)
Young People's Literature:
Thanhha Lai, Inside Out & Back Again
(Harper, an imprint of HarperCollinsPublishers)
Congratulations to all winners and finalists.