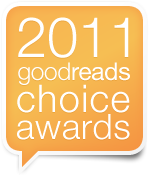 L. McMaken
12-11-11
Cincinnati, OH
Goodreads the social networking site for readers just announced their list of Favorite Books. These books were selected by readers, voted on at the Goodreads website and give an interesting look at what readers really like. The winners are:
Favorite Book of 2011
Divergent by Veronica Roth
Favorite Fiction Book of 2011
1Q84 by Haruki Murakami
Favorite Non-Fiction Book of 2011
The Geeks Shall Inherit the Earth by Alexandra Robbins
And….Best Paranormal Fantasy Book of 2011 (separated by only 7-votes)
Shadowfever by Karen Marie Moning
just edging out A Discovery of Witches by Deborah Harkness
Best Graphic Novel / Comic
Vampire Academy by Richelle Mead
You can see the entire list of winners by visiting Goodreads website.