Christine Feehan Goes Straight for the Heart
Feehan's Sea Haven characters, which started with her huge hit series "The Drake Sisters" has found more "sisters" to carry on the Sea Haven tradition.  This series, which the author has nicknamed her "Sisters of the Heart" series, doesn't feature the Drake sisters, though some characters do make appearances, but instead it features a group of women who have found each other through a shared experience and now live in a sort of compound near the Pacific coast.
Feehan has always been one to feature strong heroines and female relationships that are based on mutual respect and support.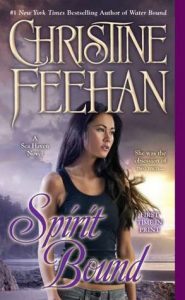 Spirit Bound, the second installment in the series, features Judith, a half Asian beauty who creates art with kaleidoscopes.  She sees color in a way most people can't. It's her gift. Her power. Her magic.  Like her "sisters" she has left behind a troubled past and come to Sea Haven to start her life anew and find peace. But, part of her past has come with her.  A microchip was hidden in one of her paintings and it has information on it that people will kill for.
Stefan has lived a hard life. Now an operative, he is out to bring down a crime lord and get the microchip himself. He suspects the evidence he seeks is with the dangerous criminal's ex-girlfriend, Judith. So he heads off to Sea Haven, under cover, to do what he has to in order to get what he wants. But, once he meets Judith, what he wants is her.
Stefan is Russian. And his long lost brother, one of many, was last seen in the Sea Haven area. This is of particular interest to those who followed the previous series, but you don't have to have read that series to understand what's going on. The author does a great job of making the storyline seamless, so you never feel like you've missed something.
Magic and danger abound as the crime lord comes for the microchip and for Judith.
This is a paranormal romance with magical elements, sexual content and some violence. The storyline is strong and the pacing is good. It won't take you long to finish this one!