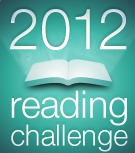 L. McMaken
1-11-12
Cincinnati, OH
Are you a voracious reader? Do you like to discover new authors? Do you always have a book or eReader with you? Then consider joining GoodReads 2012 Reading Challenge. To date, over 80,000 readers have signed up, pledging to read over 5-million books this year.
Their guidelines are simple:
Read books over 400 pages.
These can include a novel, a collection of short stories, or a bind-up of several novels.
eBooks over 400 pages
For additional information please visit GoodReads Website.