An Insider Look at the Office of Author Mary Burton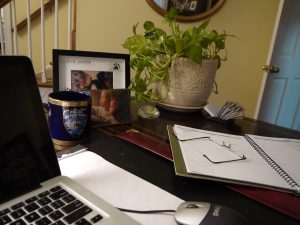 For: Reader's Entertainment
Recently, I visited Mary Burton's office.   The author of such romantic suspense novels as the soon to be released BEFORE SHE DIES (Zebra, February 2012).
Her office is not only where she writes her romantic suspense novels, but also where she displays her children's artwork, family pictures and trinkets from her travels.  Her miniature dachshunds Buddy and Bella love to sleep by her desk when she works and her 14-year-old cat Spooky often wanders through and sits on the edge of her desk.  The bookshelves are stocked with research books and Mary tells me she's also converted her tool shed into more storage to house her back issues and crime research books.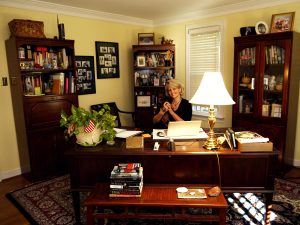 Another great feature of Burton's office is that it is right off her kitchen.  Burton is an avid baker who swears that the best way to work through writer's block is to bake.
When Burton and her husband first moved into the house years ago, she didn't have office furniture but determined to write set up a card table, a folding chair and computer and got to work.   Over the last dozen years she's written 22 books in this space.
Find out More about Mary, her latest release, and what's on her bookshelf at http://www.maryburton.com/