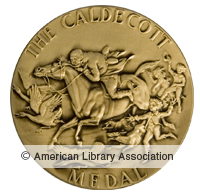 L. McMaken
2-1-12
Cincinnati, OH
The American Library Association just held its annual youth media awards ceremony. Among the honors is the prestigious Newberry Award, the Caldecott Medal and the Coretta Scott King Award. Here is a list of this years recipients.
John Newbery Medal
Jack Gantos – Dead End in Norvelt
Randolph Caldecott Medal
(Most Distinquished American Picture Book for Children)
Chris Raschka – A Ball for Daisy
Michael L. Printz Award
(Excellence in Literature for Young Adults)
John Corey Whaley – Where Things Come Back

Coretta Scott King Book Award
(Recognizing an outstanding African-American author for books for children)
Kadir Nelson – Heart and Soul: The Story of America and African Americans
Coretta Scott King (Illustrator) Book Award
Shane W. Evans – Underground: Finding the Light to Freedom
Coretta Scott King – Virginia Hamilton Award for Lifetime Achievement
Ashley Bryan
Schneider Family Book Award
(for books that embody an artistic expression of the disability experience)
Children ages 0 – 8
"The Jury chose not to award a book in the category for because no submissions were deemed worthy of the award."
Middle school award (ages 9 – 13)
Joan Bauer – Close to Famous
Brian Selznick – Wonderstruck
Teen (ages 14-18) award
Wendelin Van Draanen – The Running Dream
Alex Awards
(for the 10 best adult books that appeal to teen audiences)
"Big Girl Small," by Rachel DeWoskin
"In Zanesville," by Jo Ann Beard
"The Lover's Dictionary," by David Levithan
"The New Kids: Big Dreams and Brave Journeys at a High School for Immigrant Teens," by Brooke Hauser
"The Night Circus," by Erin Morgenstern
"Ready Player One," by Ernest Cline
"Robopocalypse: A Novel," by Daniel H. Wilson
"Salvage the Bones," by Jesmyn Ward
"The Scrapbook of Frankie Pratt: A Novel in Pictures," by Caroline Preston
"The Talk-Funny Girl," by Roland Merullo
Andrew Carnegie Medal
(for excellence in children's video)
Paul R. Gagne and Melissa Reilly Ellard of Weston Woods Studios, Inc., producers of "Children Make Terrible Pets." The video is based on the book written by Peter Brown, and is narrated by Emily Eiden, with music by Jack Sundrud and Rusty Young, and animation by Soup2Nuts.
Margaret A. Edwards Award for lifetime achievement in writing for young adults
Susan Cooper – The Dark Is Rising Sequence: "Over Sea, Under Stone"; "The Dark Is Rising"; "Greenwitch"; "The Grey King"; and "Silver on the Tree."
May Hill Arbuthnot Honor Lecture Award
(recognizing an author, critic, librarian, historian or teacher of children's literature, who then presents a lecture at a winning host site)
Michael Morpurgo
Mildred L. Batchelder Award
(for an outstanding children's book translated from a foreign language and subsequently published in the United States)
Bibi Dumon Tak – Soldier Bear – illustrated by Philip Hopman, translated by Laura Watkinson
Odyssey Award
(for best audiobook produced for children and/or young adults, available in English in the United States)
Rotters produced Listening Library, an imprint of Random House Audio Publishing Group, Random House, Inc., written by Daniel Kraus and narrated by Kirby Heyborne.
Pura Belpré (Illustrator) Award
(honoring a Latino writer and illustrator whose children's books best portray, affirm and celebrate the Latino cultural experience)
Diego Rivera: His World and Ours – illustrated by Duncan Tonatiuh, is the Belpré Illustrator Award winner. The book was written by Duncan Tonatiuh
Robert F. Sibert Informational Book Award
(for most distinguished informational book for children)
Melissa Sweet – Balloons over Broadway:  The True Story of the Puppeteer of Macy's Parade
Stonewall Book Award – Mike Morgan & Larry Romans Children's & Young Adult Literature Award
(given annually to English-language children's and young adult books of exceptional merit relating to the gay, lesbian, bisexual and transgender experience)
Bill Wright – Putting Makeup on the Fat Boy
Theodor Seuss Geisel Award
(for the most distinguished beginning reader book)
Josh Schneider – Tales for Very Picky Eaters – Geisel Award winner
William C. Morris Award
(for a debut book published by a first-time author writing for teens)
John Corey Whaley – Where Things Come Back